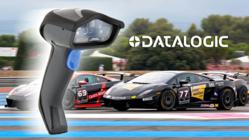 Lamborghini represents excellence in automotive manufacturing, just like Datalogic in Automatic Data Capture and Industrial Automation
Eugene, OR (PRWEB) May 31, 2012
The Gryphon™ bar code reader, by Datalogic ADC, a world leader in the Automatic Data Capture market, wins the race for first class performance, speed and efficiency at the Lamborghini Blancpain Super Trofeo series. This top-of-the-line linear imager by Datalogic guarantees accurate and secure access control operations at the team and VIP entrances of this famous event hosted by Lamborghini and Blancpain.
The exceptional world-class car manufacturer, Lamborghini, gives gentlemen drivers the opportunity to race in its one-make racing series once a year in the Lamborghini Blancpain Super Trofeo. The renowned competition features the Lamborghini track-modified Super Trofeo race car with four-wheel drive. This special model based on the Lamborghini Gallardo LP 560-4 is characterized by all the qualities for which Lamborghini is known: high performance, speed and elegance.
These qualities also define another famous brand that is participating at the Super Trofeo series this year. The Gryphon premium linear imager by Datalogic assures fast and efficient access control at the VIP and team entrances. Thanks to a collaboration with the event organizers, ExXtra Ideas srl and Produco International, the Datalogic solution is used for races all over Europe.
The characteristics of the Gryphon linear imager make it the ideal reader for events of this magnitude. Thanks to Datalogic's STAR™ Cordless System, the Gryphon imager guarantees quick, reliable and safe data communication and control with no interference whatsoever. The Gryphon imager can also store an almost unlimited number of codes during a typical competition day. Datalogic's reader incorporates a Lithium battery that permits up to 50,000 visitors to be scanned, providing the mobility needed within the racing circuit. Finally, Datalogic's exclusive patented Green Spot technology, displaying a green spot on the code to indicate good read feedback, provides maximum productivity in noisy environments, such as in the racing paddock.
Mauro Sacchetto, Datalogic Group's Chief Executive Officer, commented on this latest achievement obtained by Datalogic, "Lamborghini represents excellence in automotive manufacturing, just like Datalogic in Automatic Data Capture and Industrial Automation. Datalogic is proud to work with Lamborghini. These two Italian manufacturers known around the world for innovation, quality, precision and speed, have combined forces to achieve optimum results."
Datalogic ADC, the world leader in Automatic Data Capture, offers state of the art solutions with fixed position retail scanners, handheld scanners and mobile computers. Datalogic ADC's range includes in-counter and on-counter point of sale scanners, general purpose and ruggedized handheld scanners, rugged mobile computers, industrial PDAs and vehicle mount computers. Solutions for applications in several sectors include healthcare, hospitality/entertainment, manufacturing, retail, services and transportation & logistics.
Businesses in the retail sector can particularly benefit from Datalogic ADC's vision-based technology solutions, analytical tools, self-shopping solutions and consumer relationship technologies.
A division of the Datalogic Group, Datalogic ADC is headquartered in the US with a presence in over 120 countries.
For more news and information on Datalogic ADC, please visit http://www.adc.datalogic.com.
The Datalogic Group is a global leader in Automatic Data Capture and Industrial Automation. As a world-class total solutions provider and producer of bar code readers, data collection mobile computers, RFID and vision systems, Datalogic offers innovative solutions for a full range of applications in the manufacturing, retail and transportation & logistics industries. Datalogic S.p.A., listed on the STAR segment of the Italian Stock Exchange since 2001 as DAL.MI, is headquartered in Lippo di Calderara di Reno (Bologna). The Group's recent acquisition of Accu-Sort Systems Inc., a leading supplier of Automatic Identification products and solutions in the United States, has doubled its presence in the Industrial Automation market, escalating Datalogic to undisputed leadership in the Industrial Bar Code Scanners segment with a market share of 31%. Datalogic Group as of today employs more than 2,600 members of staff worldwide, distributed in 30 countries across Europe, the Americas and the Asia Pacific region. In 2011 Datalogic Group achieved revenues for 425,5 million Euro and invested over 26 million Euro in Research and Development with a portfolio of over 1,000 patents across the world.
For more news and information on Datalogic, please visit http://www.datalogic.com.
Datalogic and the Datalogic logo are registered trademarks of Datalogic S.p.A. in many countries, including the U.S.A. and the E.U and the Datalogic Automatic Data Capture logo is a trademark of Datalogic S.p.A. Gryphon is a registered trademark of Datalogic ADC, Inc. and Datalogic STAR is a trademark of Datalogic ADC, Inc.
Press Contact:
Datalogic ADC - e-mail: pr@datalogic.com, http://www.adc.datalogic.com
Diane Massoni – International Press Office