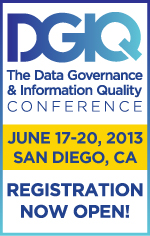 The need for effective, business-driven data governance just keeps increasing.
Los Angeles, CA (PRWEB) March 19, 2013
DebTech International and DATAVERSITY™ today announced the agenda and opening of registration for the annual Data Governance and Information Quality Conference (DGIQ). Designed to address the needs of business and IT executives responsible for managing corporate risk and accountability through effective information management, DGIQ 2013 will take place June 17-20, 2013 at the Catamaran Resort Hotel and Spa in San Diego, CA.
"The need for effective, business-driven data governance just keeps increasing," said conference chair and co-sponsor Davida Berger of DebTech. "New regulations, competitive necessities and Big Data are raising the stakes for all organizations, and high-integrity, high-quality information is absolutely essential to addressing these needs."
The conference curriculum is suitable both for those who are starting out with data governance, as well as those who already have programs in place. Novices will learn how to plan for Data Governance, addressing both the business and IT sides of the equation. The agenda includes foundational "how to" sessions, breakout discussion groups and case studies to meet the diverse needs of the audience. Experienced practitioners will learn from more advanced case studies and in-depth classes and can expect to return to their organizations armed with specific governance improvements.
DGIQ is the premier event in Data Governance and Data Quality information. Over four days, attendees can choose from 15 pre- and post-conference tutorials as well as conference sessions, keynotes, and panels. More than 25 case studies, including a presentation from the winner of the "2013 Data Governance Best Practice Award" will be presented.
This year's hot topics will include:

How to get started in data governance
How to build an enterprise-wide data quality program
How to effectively develop and improve your IQ program
How to create a data governance and data quality organization
Data stewardship and data stewardship certification
Data profiling
Governing MDM
Business Process Management and Data Governance
Metadata Governance
Big Data Governance
Overcoming roadblocks for successful data governance and data quality
Big Data and the impact on governance and information quality
Developing data governance templates and work products
Metrics for data governance, MDM and data quality
Glossaries
Six Sigma
Data Governance best practices
Data quality frameworks supporting data governance
New for 2013, A Complete Guide to Data Stewardship, has been added to the agenda. This two-day seminar will be led by David Plotkin, Advisory Consultant of EMC, and will cover how to set up a data stewardship function, provide training for stewards, all while running the stewardship effort (including managing the Data Stewardship Committee).
For information and to register for the conference please visit: http://www.debtechint.com/dgiq2013/.
For more information please contact: info(at)debtechint(dot)com.
About DebTech: DebTech International LLC is a training and development company specializing in corporate on-site and public IT and data management education. The company specializes in information management including training, and conference development. For more information please visit http://www.debtechint.com, or email info(at)debtechint(dot)com, or call (973) 632-0138.
About DATAVERSITY:
DATAVERSITY™ provides resources for information technology (IT) professionals, executives and business managers to learn about the uses and management of data. Our worldwide community of practitioners, advisers and customers participates in, and benefits from, DATAVERSITY's educational conferences, discussions, articles, blogs, webinars, certification, news feeds and more. Members enjoy access to a deep knowledge base of presentations, research and training materials, plus discounts off many educational resources including webinars and conferences. For more information please visit: http://www.Dataversity.net or email events(at)dataversity(dot)net.