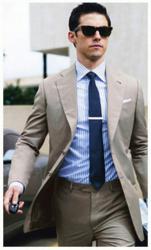 Confidence is always a major plus if you want to grab the attention of a beautiful woman.
Destin, FL (PRWEB) March 21, 2013
Attracting women is not rocket science as most men perceive it to be. If a person over thinks the process, chances are that they are likely to mess up. If a guy is looking to attract more women, they just stop by the dating blog at SoGents Lounge. Dalton Young, along with his Team at Southern Gentleman Image Consulting and SoGents Online Community, are helping men meet more women every day. They have recently released Five Proven Ways to Attract More Women on their Dating Blog within their men's community. However, they recommend that newcomers need to have an open mind when implementing these strategies as they may have to unlearn what they already know. Women are pretty much wired the same, and there are some universal truths you need to learn so as to gain a competitive edge.
Tip 1: Confidence is always a major plus when grabbing the attention of a beautiful woman. The truth is that women will size a guy up based on your appearance. This is one thing that we preach in our online men's style and dating community. The way a man looks and dresses will determine their level of confidence. Good grooming is thus a major plus for attracting women; to put it more accurately, confidence turns them on.
Tip 2: Self-assurance is equally important. In most cases, there is a tendency for men to feel that they are approaching a woman who is out of their league. Indeed, she could be very beautiful and classy, but never display to a woman that you are intimidated by her. She must feel that a man thinks that they are deserving of her, this is the only way that she will submit to them.
Tip 3: A man needs to be charming so as to grab a woman's attention. Contrary to common belief, charming a woman does not mean that the goal is to over-flatter her, this only shows how desperate a male actually may be. Again, she could perceive a guy to be a player, and this is a major turn off. A real man will charm a woman through his body language. He should appear relaxed, as this will make her feel at ease. Feel free to be slightly flirtatious, but try not to be sleazy. If it is the first date, be sure to make it memorable by ensuring the ability to make her laugh. She must think that a man is a good entertainer, however, do not be a clown since most women do not take clowns seriously.
Tip 4: One of the universal truths a guy must remember is that women thrive on compliments. She wants to feel she is the most beautiful girl on earth. It is the guys job to ensure that he shows her attention, and this will make her feel precious and appreciated. If a man is out on a date, he should complement her by paying attention even to the smallest details. However, do must not give too many compliments. This is one of the most important things discussed about on the dating blog for men. Once the date is done for the day, she will remember these tiny details, and she will want that lucky man to take her out on a second date.
Tip 5: Women love mystery, at the end of the day; a real man leaves a woman wanting more of him. Do not fully disclose everything on the first date, leave her curious enough to want to encourage a second date. Limit her to her knowledge, where she only discovers one new thing every time she is in your presence. This is bound to get a man many dates with an attractive woman. Remember, a man only has one chance to make a good first impression, so make it count.
The above tips on how to attract more women will come in handy, and help any man grab the attention of that woman who has caught his eye.
Southern Gentleman is an image consulting firm based out of Destin, Florida. Dalton Young, and his team of expert consultants, dedicated their time towards helping men look more stylish, meet more women, and rediscover their manhood through confidence, and character. Their online men's style and dating community features hundreds of exclusive articles and videos to help men change their life, as well as have their own style coach, dating coach, and career coach.
If you'd like more information about their services, or to schedule an interview with Dalton Young, please e-mail Southern Gentleman Image Consulting at info(at)southerngentleman(dot)net.