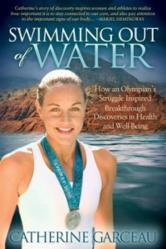 Using the David Delight Pro was quite the unexpected calming and transformational experience for me. In my quest to heal from emotional eating and depression, I rarely found a modality that produced such obvious results, in so little time.
Los Angeles, CA (PRWEB) August 10, 2012
Catherine Garceau, author of "Swimming Out of Water" and Bronze medalist in the 2000 Sydney Olympics for the Canadian Synchronized Swimming Team, endorses Mind Machines technology and the use of the DAVID Delight Pro for brainwave focus training for young athletes and pre-Olympians for gaining a competitive edge on competition while learning to relax and focus for coping with daily emotional stressors. Brainwave focus training has become part of many young athletes daily routine for accessing desired brainwave states for competition and for coping with daily emotional stressors like weight maintenance and proper nutrition.
Emotional issues that occur through the years of training for competition can manifest into disorders when retirement replaces competitive training. In her book "Swimming Out of Water", Catherine Garceau writes: "When I was a synchronized swimmer I knew that any coach or judge could be in the stands at any moment. A questionable action or improper appearance might be held against me in my performance later. Knowing what I know now, I believe athletes, coaches, judges and associations should take much more proactive measures to help prevent and address the high rates of eating disorders in sport and beyond. While I didn't personally feel pressure to lose weight while I was training, getting praised for my great figure and becoming an example for other teammates surely had its own subtle impact. I remember others girls being upset and anxious about weigh in day. In synchronized swimming (and other judged sports), athletes know that a slender look as well as strength, agility, and lightness improve their performance and their potential scores from the judges. In sports with weight categories, athletes have the added pressures of squeezing into the lowest weight category possible in order to gain a competitive edge."
Mind machines are popular tools for personal brainwave training routines. A mind machine uses color and audio stimulation to gently guide the listener into a specific brainwave state. Michael Landgraf, author of "Mind States / An Introduction to Light & Sound Technology" describes what a mind machine does: "Each color pulse and audio beat is a specific frequency. Our minds 'think' in terms of frequency. Brainwaves change frequencies based on neural activity within the brain, be it by hearing, touch, smell, vision and/or taste. These senses respond to activity from the environment and transmit that information to the brain via electrical signals. Hearing and vision are considered favorable senses for affecting brainwaves safely. By presenting these beats and pulses to the brain, within minutes, the brain begins to mimic or follow the same frequencies as the stimuli (the beats and pulses). This process is referred to as entrainment. In essence, mind machines speak to the mind in its own language: the language of frequency."
To illustrate how mind machines can promote positive emotional well-being, Catherine Garceau describes her experience with the DAVID Delight Pro mind machine by Mind Alive: "Using the David Delight Pro was quite the unexpected calming and transformational experience for me. In my quest to heal from emotional eating and depression, I rarely found a modality that produced such obvious results, in so little time. In addition to watching my eating experience naturally normalize even more, I quickly felt more focused and organized, which definitely has increased my overall sense of ease and confidence."
MindMachines.com distributes the DAVID Delight Pro Mind Machine and also provides information about brainwave entrainment technology and training.
The DAVID Delight Pro by Mind Alive includes choice of case color: blue, black or yellow. The eyesets are Tru-Vu Omniscreen white; headphones or earbuds, CES stimulus cable, stereo patch cord, carry bag, 9-volt battery, AC adapter, Quick Start Guide, Operator's manual and downloadable copy of "Mind States: An Introduction to Light and Sound Technology". Available accessories include: DAVID Session Editor, Extra User package, Multi-Color eyeset with left/right independent eye control and Tru-Vu Omniscreen eyesets with viewholes for eyes-open utilization. There are twenty-five built-in sessions plus space for user designed sessions (with session editor software). The sessions are categorized into: Energize, Meditate, Brain Brightening, Sleep, Feeling Better and User Designed. There are five sessions within each category (User Designed category has room for five personally created sessions). For more information about the DAVID Delight Pro please visit the mindmachines.com website.