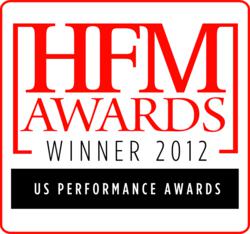 New York, NY (PRWEB) October 29, 2012
Twin Capital Management LLC, a New York-based hedge fund firm, was recently recognized by HFMWeek as the winner of best "Merger Arbitrage Fund" at the 2012 U.S. Hedge Fund Performance Awards.
In addition to winning the award for best "Merger Arbitrage Fund," Twin Capital Management LLC and its Twin Securities, L.P. fund were also nominated in two additional categories: best "Long/Short Equity Global Fund over $250 Million" and top "Event Driven Fund." Winners were named in 35 categories at the 2012 gala dinner and awards ceremony at Cipriani in New York City.
"We are honored to accept this award," said David Simon, founder of Twin Capital Management LLC. "We want to thank HFMWeek for recognizing our team's hard work and dedication to our business and clients. Given the market challenges of the past year, we are particularly proud of this award and our accomplishments."
HFMWeek is the leading resource for current global hedge fund news. HFMWeek's judging panel consisted of a number of senior level industry representatives who looked at a combination of quantitative and qualitative information. These judges considered annual performance figures, but also took into account other statistics including volatility, risk management and track record.
About Twin Capital Management:
Twin Capital Management LLC is an alternative investment management firm founded by David Simon in 1988. The firm manages equity-based, event-driven strategies with the goal of consistently producing superior, risk-adjusted, and uncorrelated returns. Twin Capital Management's investment process is uniquely designed to identify, analyze and maximize the upside of opportunities, while minimizing risk.
Past performance is not indicative of future results. The information contained in this press release does not constitute an offer to sell or the solicitation of an offer to purchase interests in any fund managed by Twin Securities, Inc. Such an offer or solicitation can only be made pursuant to a final offering memorandum, only to investors who meet certain eligibility requirements, and only in those jurisdictions where permitted by law. An investment in a private fund is not appropriate or suitable for all investors and involves the risk of loss, as well as other risks more fully described in the offering memoranda. Twin Securities, Inc. is a registered investment adviser. More information about the adviser can be found in its ADV Part 2, which is available upon request by calling 212-687-6834.