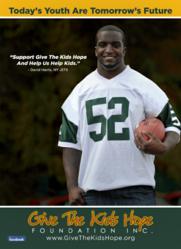 Join David Harris of the NY Jets and other celebrity guests to benefit underprivileged children in New Jersey.
Little Falls, NJ (PRWEB) March 31, 2012
Give the Kids Hope Foundation announces its Third Annual David Harris Golf Invitational; set for Monday, May 14th at the exclusive Essex County Country Club in West Orange, NJ.
The Give the Kids Hope Foundation is a registered 501(c)3 non-profit organization, founded by Stephen Tilton Jr. and Judith Schumacher Tilton to provide underprivileged North Jersey children the opportunity for recreational and educational activities that they might not otherwise have, including a chance to go to summer camp and sing by a campfire, take a nature walk or enjoy an educational trip to the zoo.
David Harris has become the face of Give the Kids Hope Foundation, inspiring many less fortunate youngsters with his enthusiastic participation and recalling that his own upbringing led him to join the group, saying with a smile "we grew up with so much love, we never knew we were poor." This year's benefit Golf Invitational which is named in his honor will support educational programs in Essex County at Turtle Back Zoo in West Orange and Passaic County at Camp Hope in West Milford. Give the Kids Hope Foundation President, Stephen Tilton Jr. commented "We are very thankful to our celebrity chairman David Harris of the New York JETS, for his involvement and continuous support of the foundation and to Essex County Executive, Joseph N. DiVincenzo, Jr., who has once again graciously volunteered this year to co-chair the event."
Among the contests and prizes planned for the 2012 David Harris Invitational are a $10,000 (60' putt) and hole in one prizes that include: a 2012 Chevrolet Corvette Grand Sport and a 2012 Chevrolet Camaro SS, sponsored by Schumacher Chevrolet in Little Falls, NJ and Gearhart Chevrolet in Denville, NJ.
Many opportunities are available to support the David Harris Golf Invitational and its cause through participation as a player, by sponsoring or donating monetarily or though providing an auction prize. Participating sponsors to date are: Schumacher Chevrolet, Gearhart Chevrolet, Tilton Automotive Group, Lakeland Bank, Comcast Spotlight, Viamedia, Cablevision and PSE&G.
For more information about playing or sponsoring the David Harris Invitational or to purchase tickets for the evening dinner, awards ceremony and prize auction, please contact: Allison Lastfogel at Schumacher Chevrolet 973-256-1065
Give the Kids Hope Foundation, Inc.
Stephen Tilton Jr., President
8 Main Street
Little Falls, NJ 07424
info(at)givethekidshope.org
973-256-1065