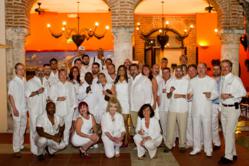 This trip gave me a new appreciation for the company and even more confidence in my recommendation of Davidoff cigars to our customers as the premier ultra-premium cigar available today.
Albany, NY (PRWEB) January 30, 2013
PipesandCigars.com is a leading online tobacconist, specializing in offering the web's widest selection of premium cigars, smoking pipes, pipe tobacco, and all types of smoking accessories. As one of a small number of Davidoff Appointed Merchants in the USA, the company was selected to participate in Davidoff's annual factory tour. The group began their tour in Santiago, Dominican Republic, touring Davidoff's tobacco fields, processing plant, and rolling factory before moving across the tropical island to the city of Santo Domingo for a more vacation-like setting, a round of presentations, and the trip-ending "White Dinner" party.
PipesandCigars.com Owner Scott Bendett and Marketing Director Travis Lord were the two company representatives selected to attend this special trip. The pair got a first-hand look at the facilities that make Davidoff cigars, AVO cigars, Griffin's cigars, Zino cigars, Winston Churchill cigars, Cusano cigars, and Private Stock cigars. Other cigars produced under the Davidoff umbrella are Camacho cigars, Baccarat cigars and Panter cigars, however the factories for those cigars are located elsewhere are were not part of this tour. In addition to learning about the process behind rolling a hand-made premium cigar, Mr. Bendett and Mr. Lord also learned about the history of the Davidoff company, and got to see the process of growing tobacco from seed to harvest.
"It is truly an honor to be selected to participate in this special trip" said PipesandCigars.com Owner Scott Bendett. "This was my second time being invited, and they've made in an even more special experience than it was when I attended six years ago. Having my shop anointed as a Davidoff Appointed Merchant adds an element of class and sophistication to my entire operation. It was a wonderful experience to learn so much about the Davidoff company and the process of making cigars in general, as well as making so many wonderful friends along the way. It gave me a new appreciation for the company and even more confidence in my recommendation of Davidoff cigars to our customers as the premier ultra-premium cigar available today."
In addition to the extensive tour of the Davidoff facilities, attendees of the trip were also treated to a cigar tasting designed to teach about the unique flavors of different types of tobacco. The tasting featured three cigars, each one rolled from entirely one kind of Dominican tobacco. After attendees tasted each type, they then enjoyed a Davidoff cigar that was rolled utilizing the three tobacco strains so they could learn how the tobaccos, when properly blended, combine to create the cigars Davidoff is world-famous for.
"This trip is something I will never forget" said Marketing Director Travis Lord. "From stepping off the plane in this tropical paradise to the incredible closing dinner, it was one of the most interesting and unique travel experiences of my life. Davidoff is a luxury lifestyle brand, and they really proved it with the way we were treated. As a serious cigar lover for almost a decade, it was a thrill for me to be among the first people to sample some of the new and limited edition releases Davidoff has planned for 2013, and without releasing any details I'm not supposed to I can safely say that Davidoff and AVO cigar fans are going to be thrilled with this year's blends. I truly respect Davidoff for being a company that stays true to their roots while continuing to constantly innovate."
PipesandCigars.com posted a number of photos from the trip on their Facebook page, and plans to publish more detailed descriptions on their TalkingTobacco.com blog site. Customers interested in learning more about Davidoff cigars can visit PipesandCigars.com or call their experienced customer service team at 800-494-9144.
About PipesandCigars.com: PipesandCigars.com is an industry-leading online tobacconist dedicated to bringing customers the widest selection of cigars, pipes, pipe tobacco and tobacco accessories. The company features premium cigars from brands like Ashton cigars, Padron cigars, Montecristo cigars, Macanudo cigars, CAO cigars, Arturo Fuente cigars, and many more. They are the low-cost leader in pipe tobacco on brands like GL Pease, Sam Gawith, McClelland, Captian Black, Borkum Riff and many more. They feature thousands of pipes, ranging from inexpensive Corn Cobs and Dr. Grabow pipes all the way to the premium brands like Dunhill, Peterson and other fine hand-carved pipes.