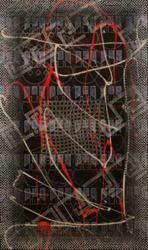 Santa Fe, NM (PRWEB) March 27, 2013
David Richard Gallery is pleased to present "Color In Space", the gallery's first solo exhibition for Washington D.C.-based artist, Carol Brown Goldberg. The exhibition will open with the artist's reception on Friday, March 29 from 5:00 to 7:00 PM and run through May 4, 2013 at the gallery located at 544 South Guadalupe Street, Santa Fe, New Mexico 87501, phone 505-983-9555, in the Santa Fe Railyard Arts District. The gallery will also host an artist talk open to the public in the gallery on Saturday, March 30 from 2:00 to 3:30 PM.
Goldberg's recent paintings are astral-like, conflating lyrical abstraction with Op Art and hard-edged painting to create portals with a view of some great abyss or boundless space beyond. There is neither a predetermined horizontal nor vertical configuration to her paintings as they are "pure abstractions" according to Donald Kuspit in a recent essay he wrote discussing her artwork. Thus, they can be viewed in any orientation. Influenced by her teachers, mentors and peers of the Washington Color School, her paintings are necessarily about color and the manipulation of paint to create translucent veils and opaque structures that provide definition to the portals and allow a view on to something speeding away from or toward the viewer — perhaps a mass being pulled by a vacuum in space or hurling debris from a cosmic explosion. Goldberg maintains a tension in these paintings between their vibrant, energetic and colorful presence and the void and emptiness from floating objects and lack of recognizable forms that makes them seem mystical and transcendent. The titles are personal to Goldberg and somewhat evocative, but ultimately, the viewer must craft a narrative from their own experience to complete the work for themselves.
Also on view will be a small selection of Goldberg's multi-disc sculptures that interact with the paintings and her award winning short film, The Color of Time.
Goldberg has shown in the U.S. and internationally in over 100 solo and group exhibitions, including traveling exhibits throughout Spain and Mexico and her work has been included in various publications. Her work is included in many museums and private collections, including New Orleans Museum of Art and National Museum for Women in the Arts, as well as permanent outdoor sculpture installations at The Kreeger Museum, The Katzen Arts Center at American University, and George Washington University. In 2012 she produced the award winning film, The Color of Time, which debuted at The Katzen Arts Center at American University. She has recently been awarded third prize for a sculpture installation scheduled for the Parque de Levante in Murcia, Spain.
David Richard Gallery specializes in post-war abstract art including Abstract Expressionism, Color Field, geometric and hard-edge painting, Op, Pop, Minimalism, Feminism and conceptualism in a variety of media. Featuring both historic and contemporary artwork, the gallery represents many established artists who were part of important art historical movements and tendencies that occurred during the 1950s through the 1980s on both the east and west coasts. The gallery also represents artist estates, emerging artists and offers secondary market works as well as art consulting and advising. Gallery hours are Tuesday through Saturday, 10:00 AM to 5:00 PM and by appointment.