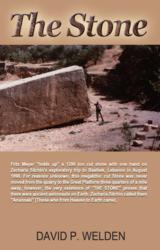 Know the Truth that is hidden for Centuries
(PRWEB) February 05, 2013
David Welden explores the truth behind aliens and UFOs. In his first book, The Stone, he provides a compilation of mind-boggling stories from real individuals who had seen Unidentified Flying Objects, had otherworldly experiences, or had close encounters with aliens. Taking accounts from works of reputed individuals such as Jesse Marcel, Jr., son of one of the major eyewitnesses to the 1947 Roswell incident, Frank Scully, an author who has told tales of the earliest flying saucers that have landed on earth, and Zecharia Sitchin, author of a series of books about Earth's and man's history, among a few others, Welden attempts to prove that there is, indeed, life beyond the confines of Earth.
An avid fan of stories about aliens and UFOs, Mr. Welden has spent years of research regarding the subject. He participated in Zecharia Sitchin's expedition to gather proof of existence of ancient astronauts, whom Sitchin called Anunnaki. With The Stone, he shares the information he has gathered as well as his experiences, giving details on the role of Anunnaki and Homo erectus in the genetics of modern humans, providing a comprehensive timeline of the Earth's chronology from 450,000 B.C. to 2023 B.C., and offering his own conclusions based on empirical evidence and his own thorough investigation.
Presented in a lucid manner and equipped with suitable visuals, David Welden's The Stone is certain to open the reader's minds to the possibilities of alien existence within the vast expanse of the universe.
David P. Welden is an inventor and an entrepreneur who holds nine United States patents for his inventions. He is particularly known for developing the Welden Direct Fired Steam Generator. At age 40, David yearned to do something rewarding in life. He feels he attained that goal in 2002, when he decided to write a book.
You can also visit his webpage, http://www.accurance.com/davidwelden/.