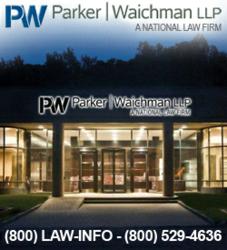 New York, New York (PRWEB) March 21, 2013
Parker Waichman LLP, a national law firm dedicated to protecting the rights of victims injured by defective medical devices, is recounting the risks associated with the use of the da Vinci surgical robot and is evaluating potential lawsuits on behalf of individuals who were injured after robot-assisted surgery. Bloomberg reported that on March 19, 2013, the Quality and Patient Safety Division of Massachusetts' Board of Registration in Medicine issued an advisory on robot-assisted surgery. Currently, the only surgical robot system approved in the United States is the da Vinci system, manufactured by Intuitive Surgical. Among other things, the advisory cited several cases of patients who had experienced complications after undergoing surgery with the da Vinci system.
"This advisory is only the latest report emphasizing the dangers of undergoing surgery with the da Vinci surgical robot," says Gary P. Falkowitz, a Managing Attorney at Parker Waichman LLP. "Recent reports suggest that robot-assisted surgeries are not necessarily safer than those surgeries performed without a robot." Parker Waichman LLP offers free legal advice to patients who suffered alleged injuries that may have been caused by the robotic system and is actively seeking cases.
According to a Bloomberg report published last week, the da Vinci robots were used in approximately 367,000 surgeries last year for procedures such as hysterectomies, prostate surgeries and gallbladder removals. In a robot-assisted surgery, the surgeon sits down at a video-game like console and looks into a high-definition display hooked up to a 3-D camera in order to view the surgical site inside the patient. The doctor uses hand controls and foot pedals to move mechanical arms equipped with surgical tools.
There have been mounting concerns among doctors and in courts about the safety and usefulness of the da Vinci system, Bloomberg reported yesterday. The advisory issued by the Massachusetts' Board of Registration said its Quality and Patient Safety Division had received "an increasing number" of patient injuries related to robotic surgery. The board cited three cases of complications that occurred after robot-assisted surgery. In one case, a surgeon mistakenly left rectal tissue inside the abdomen of a patient. Another case cited damage to the bowel and left ureter in a patient undergoing robotic hysterectomy and ovary removal. The advisory stated that the "Risks for robot-assisted surgery should be thoroughly explained" and patients should also be advised about the experience levels of the surgeon.
According to Bloomberg, in 2011 a study conducted by researchers at Johns Hopkins University School of Medicine found that hospital websites typically overstate the benefits of robotic surgery without mentioning the risks. The study found that 86 percent of websites claimed that the da Vinci was superior to other methods but did not mention the risk of complications. Researchers also noted that the websites used wording provided by the manufacturer, Bloomberg said.
Last week, the American Congress of Obstetricians and Gynecologists (ACOG) stated that there is little evidence showing that the da Vinci is as effective as other methods for performing a hysterectomy. ACOG also emphasizes that the method is costly, and warns consumers that it is important to not be swayed by heavy advertising with regards to robotic surgery.
Parker Waichman LLP continues to offer free legal consultations to victims of da Vinci surgical robot injuries. If you or a loved one experienced surgical burns, perforated or torn organs, torn blood vessels or other injuries associated with the da Vinci surgical robot, please contact their office by visiting the firm's da Vinci Surgical Robot Lawsuit page at yourlawyer.com. Free case evaluations are also available by calling 1 800 LAW INFO (1-800-529-4636).
Contact:
Parker Waichman LLP
Gary Falkowitz, Managing Attorney
(800) LAW-INFO
(800) 529-4636
http://www.yourlawyer.com