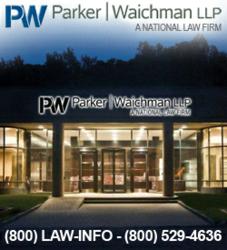 "ACOG's statement shows that the latest and most expensive medical device is not always the best option," says Parker Waichman LLP.
(PRWEB) March 15, 2013
Parker Waichman LLP, a national law firm dedicated to protecting the rights of victims injured by defective medical devices, is commenting on a statement by the American Congress of Obstetricians and Gynecologists (ACOG) about the da Vinci surgical robot manufactured by Intuitive Surgical. According to a statement issued by the group yesterday, there is little evidence showing that the da Vinci is as effective as other methods for performing a hysterectomy. ACOG also emphasizes that the method is costly, and warns consumers that it is important to not be swayed by heavy advertising with regards to robotic surgery.
"ACOG's statement shows that the latest and most expensive medical device is not always the best option," says Parker Waichman LLP. "In fact, evidence suggests that the da Vinci surgical robot may present more risks compared to other methods, on top of being more costly." Parker Waichman LLP offers free legal advice to patients who suffered alleged injuries that may have been caused by the robotic system.
According to Bloomberg, the da Vinci is used for procedures including prostate surgeries, gallbladder removals and hysterectomies (removal of the uterus). Surgeons who are learning to use the da Vinci robot tend to have higher rates of complications. In a procedure with the da Vinci surgical robot, the surgeon uses foot pedals and hand controls to maneuver robotic arms equipped with surgical tools. The video-game like console, which is several feet away from the patient, utilizes a 3–D camera to show what is being done inside the patient.
Bloomberg further outlines that the U.S. Food and Drug Administration (FDA) is investigating surgeons about the safety of the robotic system. According to a review of adverse incident reports by Bloomberg News, injury reports associated with the da Vinci has increased from 24 to at least 115 from 2009 to 2012 and deaths rose from 11 to 30 throughout that time period; the review also found that the surgical robot is linked to at least 70 deaths since 2009. According to Bloomberg, adverse event reports have been used as a tool to detect safety issues for medical devices.
http://www.bloomberg.com/news/2013-03-14/robot-surgery-isn-t-most-cost-efficient-hysterectomy.html
Barbara Levy, vice president for health policy at ACOG, told Bloomberg that some 600,000 hysterectomies are performed each year in the United States. A Feb 4th 2012 regulatory filing shows that surgical robots were used for 367,000 procedures last year, including 176,000 uterus removals. Levy says that the da Vinci "is absolutely not" the least invasive type of hysterectomy" according to Bloomberg. She stated that complications such as scarring "are higher up; they are more visible; there are more of them; and they are bigger" compared to other methods for a hysterectomy.
The ACOG represents 56,000 physicians in the United States, according to Bloomberg. The group's statement, which was posted yesterday by President James T. Breeden, MD, stated that "there is no good data proving that robotic hysterectomy is even as good as—let alone better—than existing, and far less costly, minimally invasive alternatives." The group pointed out the fact that the da Vinci has been heavily marketed, and warned consumers that "At a time when there is a demand for more fiscal responsibility and transparency in health care, the use of expensive medical technology should be questioned when less-costly alternatives provide equal or better patient outcomes." ACOG cited a study in the Journal of the American Medical Associations showing that the robotic surgeries for hysterectomies has jumped from less than 0.5 percent to more than 10 percent in three years; another study found that the system raised the cost of surgery by an average of $2,000 without any added benefit.
Additionally, ACOG points out that using the surgical robot comes with a learning curve. Levy told Bloomberg that until a surgeon fully develops expertise with the da Vinci, the rate of complications may be higher, not lower. Similarly, ACOG's statement says that "Expertise with robotic hysterectomy is limited and varies widely among both hospitals and surgeons." Levy also told Bloomberg that "cherry picked and very misleading information" comparing hysterectomies done via da Vinci versus traditional operations with large incisions can be misleading.
Parker Waichman LLP continues to offer free legal consultations to victims of da Vinci Surgical Robot injuries. If you or a loved one experienced surgical burns, perforated or torn organs, torn blood vessels or other injuries associated with the da Vinci Surgical Robot, please contact their office by visiting the firm's da Vinci Surgical Robot Lawsuit page at yourlawyer.com. Free case evaluations are also available by calling 1 800 LAW INFO (1-800-529-4636).
Contact:
Parker Waichman LLP
Gary Falkowitz, Managing Attorney
(800) LAW-INFO
(800) 529-4636
http://www.yourlawyer.com