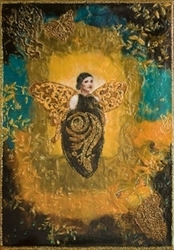 As a renowned graphic designer, I consider my red-headed friend Barbara very powerful and she always pushes herself toward perfection. In everything she does she brings love and beauty forward and that is very healing for all. That's why I think this Intentional Card Case is perfect, and besides, she will always enjoy taking her business cards out of this case
San Miguel de Allende, Mexico (PRWEB) October 1, 2009 -
"It was such an honor to have my Intentional Journals selected as 'Best in Show' at the International New Age Trade Show this June by New Age Retailer Magazine," said Dawn Gaskill. "As the number one trade magazine for New Age retailers, I know they truly understand what resonates with those who want to own or give meaningful objects that reflect positive energy - like my work provides through Intentional Art."
New Age Retailer Magazine features Dawn's Intentional Journals in their current issue "Holiday 2009" stating: (The Intentional Journals) Combine her love of color, texture and symbolism with ancient texts and vibrant imagery in exquisite images that are reproduced on refillable journals. The images are outlined in gold, hand-painted and embellished, and then sealed with a long-lasting varnish. Inside the cover is a story about the symbolism in both English and Spanish.
Dawn translates ancient symbols and belief systems into contemporary art made to inspire the realization of personal intentions. All of her artwork is specifically focused to support others in joyfully attracting their intentions and achieving goals in all areas of life -- love, health, abundance, creativity, family, and in achieving spiritual goals of wholeness and balance. The layered imagery on the Intentional Journal and Card Case collections are a reflection of the original artwork by Dawn created in the ancient encaustic method. Her Intentional Journals come in 15 designs and their companion Intentional Card Cases carry 10 designs, based on symbols found in Feng Shui, Egyptian, Contemporary and Divine Feminine and Goddess archetypes.
Purchasers can select the symbol and message perfect for themselves or a friend. In Dawn's Feng Shui series, for example, the Career and Life Journey Journal and Card Case features a black turtle, inside each reads: Achieving success in your career, making career changes or improvements, taking the right actions in life choice situations. The mystical black turtle symbolizes heaven and earth blessing you so that you are awakened to opportunities for progressing and enduring in your chosen field. The trigram Kan represents work that will assist you in receiving more joy from your efforts. It says that sometimes you must have the courage to go into deep water to make the most of your life journey. The water element enables your life journey to flow with achieving success in your career, making career changes or improvements ease.
"Being inspired everyday through Intentional Art and empowering intentions is what carrying a Dawn Design Intentional Journal can do for a person," said Camie Sands, Author of 'Colors of San Miguel de Allende' and Director of the International Chamber Music Festival of San Miguel, who recently received the Wealth and Prosperity Intentional Journal from her parents as a gift. It features four golden dragonflies and the inside cover reads: Generating opportunities for increased income, raising money for charity, bringing fortunate blessings and an abundance of good things into your life. The dragonflies represent light, brightness and the color of transformation. The pineapples symbolize welcoming and hospitality, and invite good luck. The trigram Sun represents the wind spreading ideas and opportunities. "I was so touched that my parents saw how much giving back my talents to others means to me. When I use this Intentional Journal, it reminds me of their love and what I want to give of myself- as I have learned from them - to others. It was the perfect gift."
Sands recently purchased the Copper Sekhmet Card Case. "As a renowned graphic designer, I consider my red-headed friend Barbara very powerful and she always pushes herself toward perfection. In everything she does she brings love and beauty forward and that is very healing for all. That's why I think this Intentional Card Case is perfect, and besides, she will always enjoy taking her business cards out of this case," said Sands. The Sekhmet Card Case reads: The lioness-headed goddess, whose name means the powerful one was sent by her father Ra to destroy humankind for turning away from God. Yet she is the dichotomy because she is known as a mystical deity and goddess of healing. She still stands in her healing temple in Karnak. Sekhmet represents your personal powers and encourages you to be the most that you can be. In some myths she is also connected to Hathor, goddess of love and beauty.
The Intentional Card Cases are perfect reminders of powerful intentions and are perfect for carrying business or social cards, or credit and personal ID cards. Each case has one of Dawn's Intentional Art pieces on the front and back, which has then been devotedly hand painted for a special touch of elegance. The inside lid carries the complete symbolism of the image. What a powerful gift to give someone when each time they open their card cases they are empowering their intentions. Arlene Sukolsky says the Goddess Sekhmet is particularly important to her.
"I have encountered her in Egypt in all of her manifestations and have experienced first hand her power. My beautiful little card case is always with me, a constant reminder of my favorite goddess."
Joesph Dispenza, Author of God On Your Own: Finding a Spiritual Path Outside Religion, recently wrote, "Dawn's images blend symbolism and texts from different belief systems and cultures to demonstrate the truth that we are all One. By integrating the activating power of ancient symbols with the creation of your own personal intentions, Dawn's art provides a breakthrough approach for realizing dramatic change in your everyday life."
"The Intentional Journal makes a wonderful gift and an Intentional Card Case is its perfect companion," said Dawn, who also noted that even though each one is handmade and painted, there is time to make and deliver holiday orders. Please visit http://www.dawndesigns.com/index.php?/shop/. E-mail Dawn at dawn(at)dawnesigns.com for pricing and a wholesale order form.
###