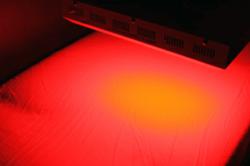 (PRWEB) March 07, 2013
Although red-light therapy devices have been in use for over 25 years, Dazzle Light stands out for a number of reasons. First, Dazzle Light does not require a medical director to operate. As such, it is available to day spas, gyms, tanning salons, as well as individuals. Secondly, Dazzle Light uses over 140 LEDs (light-emitting diodes) to create a 'field' of light, which produces far greater results than industry-standard low-level laser devices. Third, Dazzle Light does not require awkward diode or 'paddle' placement as do most other devices in the industry. Lastly, and most importantly, Dazzle Light guarantees a 2-inch loss from the client's first body slimming treatment.
As of this writing, Dazzle Light is only available to US treatment providers, though the distributor is currently working out the details of a program for international providers.
Treatment providers and individuals can get started with Dazzle Light for as low as $1000 per month with no down payment, and financing options are available.
In order to protect the profitability of treatment providers, regional exclusivity is maintained at one Dazzle Light provider per 300,000 population. Prospective treatment providers can secure exclusivity in their area by inquiring via:
E-mail: sales(at)dazzle-light(dot)com
Phone: (267) 329-9533
For more information about Dazzle Light, visit http://dazzle-light.com