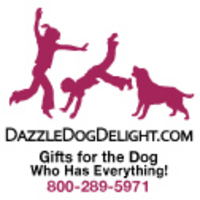 Many people get a puppy or adopt a dog, thinking that it is going to be easy to care for them and that training is a one-time thing. However, training is not easy, it's hard and it is ongoing.
Oakland, CA (PRWEB) January 11, 2011
Dazzle Dog Delight donates 5% of its profits to the SPCA, so it was natural for them to come in contact with people struggling to train their rescue dogs and brand new puppies. In response, they have introduced several products and resources to help aid pet owners in the process, such as an exclusive mini e-book, a blog, and even an online radio show.
The 15-page mini e-book entitled, "Doggie in the Window: Rescue Dog Behaviors Explained," is written by Dewi Faulkner and is the leading mini book on dogs that have been rescued. The book provides real case study examples and can be downloaded quickly so the purchaser can start reading right away. The blog & the radio show are managed by Dazzle Dog Delight's owner, Joy Randel, and offer information and interviews with other pet experts. Recent topics have included, "Music to Control a Dog's Behavior" and "Nothin' But a Hound: What You Should Know About Shelter Dogs." According to Randel, "Many people get a puppy or adopt a dog, thinking that it is going to be easy to care for them and that training is a one-time thing. However, training is not easy, it's hard and it is ongoing."
Dazzle Dog Delight also offers several other dog training aids that help to combat everything from house training to crate training. If the owner has a puppy or rescue dog who is using his/her home as their bathroom, they can check out the Clean Go Pet Indoor Potty, which allows the dog to relieve themselves indoors without destroying their floors. Sometimes that piddle in the house is more than just a matter of being housebroken. If it has manifested itself in the owner's shoes, they might have a case of separation anxiety on their hands. It's fairly common as recent studies show that 10.7 million pets in the United States suffer from it. Fortunately, Dazzle Dog Delight offers Rescue Remedy Pet, which is an all-natural dog behavior modification aid that can be added to the dog's water or rubbed directly into the dog's nose, ear, or paw. The remedy has been around for over 70 years and is said to help reduce the stress associated with the separation anxiety, which is said to be the cause of many undesirable dog behaviors. If the owner finds himself covering his ears at night with a pillow or his neighbors are starting to complain about the barking, they can try a Guardian Gear Lined Muzzle or the Ultrasound Dog Barking Control and Training. If the owner has an active doggie to keep up with, they might need to crate train them and a Collapsible Soft Dog Crate can help. They can also help focus their dog's energy through the Dog Sport Sampler, which offers dog agility training supplies. They can even combine the two by putting their dog in the crate on the way to the park where they can set-up the doggie obstacle course for him and let him at it.
Those are just a handful of products that Dazzle Dog Delight offers to help pet owners with training their dog to become an upstanding citizen. Anyone making purchases right now can get free shipping when they spend $25 or more. Randel says she would gladly help guide dog owners in distress over their misbehaving dog. Visit http://www.dazzledogdelight.com or call 1-800-289-5971 for more information.
Dazzle Dog Delight was born out of love and necessity. For decades, Dazzle Dog Delight CEO Joy Randel worked as an IT manager while the family dog had a starring role at home. Joy found time with her family and dog more rewarding than her job and when the economy turned sour and layoffs were abundant, she quietly thought "hmmm, maybe getting laid-off wouldn't be so bad." Soon she found out for real when her cost-cutting arrived in a memo. And as she exited corporate America, Joy decided to jump out of the revolving door. She combined her passion for dogs with her IT knowledge and created Dazzle Dog Delight. The hours are long and there's not nearly as much support staff, but the employees and customers always wag their tails – a reward rarely found in her old jobs.
###