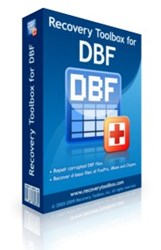 the most efficient, fast and accurate DBF repair program available on today's market.
Alexandria, VA (PRWEB) November 07, 2012
Recovery Toolbox, a leading supplier of specialized data recovery and file repair tools for a variety of popular software products, announces the release of the renewed and updated version of Recovery Toolbox for DBF ( click here to read more). The product is intended for the mass audience and enables non-professionals and IT experts to minimize the time and effort required to extract valuable data from DBF database files damaged in all sorts of incidents, from virus attacks and drive failures to reckless experiments with file system management tools.
Recovery Toolbox for DBF employs a 1-2-3 approach to recovering data and requires a bare minimum of user's involvement in the process. A built-in DBF repair wizard prompts the user for a few key parameters and takes care of the rest of the process. The program fully supports files created in dBase version IV, Visual FoxPro, FoxPro 2, Clipper and a number of other database solutions using this format. Apart from recovering data from damaged database files, Recovery Toolbox for DBF restores the original structure of table fields and extracts data from MEMO fields.
"With DBF still being one of the most popular database formats on the market, we just couldn't miss the opportunity to create a good repair tool for it," explains Victor Bobrov, a senior product manager with Recovery Toolbox. "Recovery Toolbox for DBF is an extremely easy to use tool that outperforms all of its direct competitors and provides higher recovery accuracy. We are sure that its outstanding qualities will be duly appreciated by its potential users."
About Recovery Toolbox
Founded in 2003, Recovery Toolbox is currently the leading provider of data recovery tools for a broad range of programs. The growing portfolio of Recovery Toolbox consists of over 30 award-winning solutions intended primarily for mainstream applications used by millions of people worldwide. The company is committed to creating intuitive and user-friendly tools that help regular users solve complex data recovery and migration problems on their own.
Official Site: http://www.recoverytoolbox.com/
Software Page: http://www.dbf.recoverytoolbox.com/