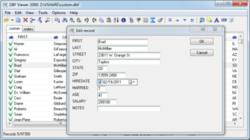 Seattle,WA (PRWEB) March 28, 2013
DBF Viewer 2000 provides a range of functions for virtually any manipulation with DBF files. The DBF format is certainly one of the most popular database formats, and all major database systems support it: FoxPro, Clipper, dBase are just few of them. However dealing with large set of databases may require a lightweight instrument in the toolbox for higher convenience.
DBF Viewer 2000 by HiBase Group is exactly such a tool. Combining a genuinely intuitive interface with potent capabilities this tool allows easy editing, viewing, search and exporting of database files. Surprisingly powerful for its size, DBF Viewer 2000 is extremely fast thanks to highly optimized core and thorough testing. This means not only the top level of reliability, but also enterprise-level speed while processing DBF files in comparison with competitive solutions.
The new release puts outstanding speeds of the application to even higher level. Exporting of DBF files and working with database fields of the Memo type is much faster now, which makes DBF Viewer 2000 v4.97 an ideal choice for any database administrator or developer. You can export from a dbf file to the number of destination formats including: XLS, XLSX, XML, CSV, TXT, HTML, MS SQL, MySQL, Oracle and PostgreSQL scripts.With its extensive exporting capabilities and a lot of crucial functions including DBF structure analysis, convenient and fast modification of data, renaming of fields and records in a database, the tool becomes one of the fruitiest offers on the market.
Pricing and availability
DBF Viewer 2000 v4.97 is available for Windows 95/98/2000/XP/Vista/7/8, 32- and 64-bit editions. The license costs range from $49.95 for a personal license to $999.95 for a worldwide unlimited license.
Links
Website: http://www.dbf2002.com
Download link: http://www.dbf2002.com/DBFVIEW.EXE
About
HiBase Group Company is on the market since 2002. The company offers a line of database solutions focusing on quality, reliability and ease of operation of the tools. The product line includes the following products: a flagship DBF Viewer 2000, DBF Recovery and DBF Converter.