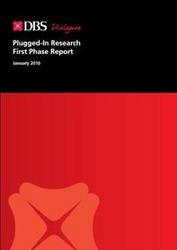 The Plugged-In survey garnered a series of questions in an attempt to answer what business owners want to know from consumers and other business owners.
Singapore (PRWEB) January 27, 2010
DBS Dialogues, a website for entrepreneurs in Singapore and across Asia, is to release its first report from the Plugged-In survey. The Plugged-In survey garnered a series of questions in an attempt to answer what business owners want to know from consumers and other business owners. Conducted by professional research agency, TNS , the first in-depth reports and videos are now available at the DBS Dialogues website.
DBS Dialogues, initiated by DBS Bank, provides essential and timely guidance for small and medium-sized businesses in Singapore and across Asia. Whether the decision is to consider expanding regionally, how to take a business to the next level or just how to survive an economic downturn, DBS Dialogues presents advice, practical tips and business insights from Asia's leading entrepreneurs.
The Plugged-In research, a feature of DBS Dialogues website, allows consumers and businesses to post questions and vote for what they want answered. The most popular questions are taken to the streets by TNS, a third party professional research agency, to find out how consumers and other businesses owners respond. Results of the survey are then published and shared with the public to provide valuable consumer and business insights.
What are the most important steps to take when starting your own business? What are the real, practical challenges or issues usually encountered when expanding internationally? What are the most effective communication tools to use? How best to maximise publicity and increase brand awareness? The DBS Plugged-In survey sets out to answer these tough business questions by seeking the views of SME owners in Singapore.
While businesses may cut back their expenses in the current downturn, they also have to respond to consumers' needs. The DBS Plugged-In survey reveals what factors drive purchase decisions, how to maintain customers' loyalty, factors to consider when selling online, future trends, and much more.
Find out more about consumers and business owners in Singapore, by downloading the DBS Plugged-In's in-depth reports and watching the videos at "dbsdialogues.com/plugged_in.asp"
About DBS
DBS is the largest bank in Singapore, a leading bank in Hong Kong and is one of the largest financial services groups in Asia. Headquartered in Singapore, DBS has operations in 16 markets and is a well-capitalised bank with "AA-" and "Aa1" credit ratings, one of the highest in the Asia Pacific region.
As a bank that specialises in Asia, DBS leverages its insights, deep understanding of the region and appreciation of local cultures to serve and build lasting relationships with its clients. DBS provides a full range of services in corporate, SME, consumer and wholesale banking activities across Asia and the Middle East. DBS will leverage its growing presence in China, Hong Kong and Taiwan to intermediate the increasing trade and investment flows in the Greater China region. The bank is also focused on extending its footprint and facilitating capital flows in fast-growing Indonesia and India.
DBS acknowledges the passion, commitment and can-do spirit in each of its 14,000 staff, representing over 30 nationalities.
###