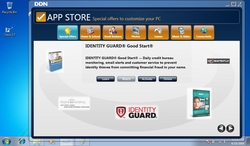 PC OEM's are beginning to understand that the ability to deliver a satisfying and secure user experience can build a long term and highly valued relationship with the consumer that can yield dividends for years to come
Las Vegas, NV (PRWEB) January 7, 2010
Digital Delivery Networks, Inc. (DDNi), a PC customer-experience company, today announced OASIS 2.0 is shipping to PC OEMs. Supporting Windows 7, DDNi's latest version of its user experience software is showcased at the 2010 International Consumer Electronics Show.
Developed for PC OEMs, OASIS provides OEMs the ability to differentiate their offering by delivering their own custom branded platform and interface to improve the user software that ships with their computers. Consumers benefit from the ability to tailor their PC experience to best suit their needs and unify how they want to interact with their computer between the desktop, software, online applications, websites and devices. Because OASIS is aligned to the operating system, it can intelligently recommend software, services, support and products that are in context and appropriate to the end users' PC use.
"Over the past 18 months of working closely with PC OEMs, it is evident that they have approached a tipping point in recognizing the critical importance of interacting and working to engage with the end-consumer. PC OEM's are beginning to understand that the ability to deliver a satisfying and secure user experience can build a long term and highly valued relationship with the consumer that can yield dividends for years to come," said Michael Kuptz, CEO of DDNi.
DDNi's intuitive drag-and-drop interface allows the user to add commonly used applications like Microsoft Office, favorite web locations, peripheral devices, and personal preferences into a centralized location. A popular feature of the 2.0 platform is sMyline, a customizable, standalone desktop program designed to help the user manage their desktop and how they interact with their PC. The sMyline program can incorporate productivity applications, personal files and entertainment components including music, games, pictures, and videos to give users the power and instant access to their digital content.
"PC OEMs are waking up to the harsh reality that they have to find ways to improve their customer interactions and differentiate their product offering on more that processing power and hardware features. DDNi provides a turnkey infrastructure for PC companies, distribution partners and retailers to capitalize on a better user experience that incorporates thousands of premier software applications, internet services, news and video feeds, support services and complementary products," added Kuptz.
Gearing up for Windows 7, DDNi's OASIS 2.0 has become a clear channel for PC OEMs and partners to directly communicate with users to help transition to the newest operating system and provide a conduit for instant software and application upgrades. Additionally, OASIS 2.0 helps lower support costs, warranty costs, and service through proactive messaging to increase PC OEM's overall operating margins.
For more information about DDNi or to schedule a meeting at the 2010 International CES visit http://www.ddni.com/ces .
About DDNi
Digital Delivery Networks (DDNi) is a PC customer experience company that provides software, infrastructure and digital marketing opportunities to personal computer (PC) companies, distribution partners and retailers. DDNi clients sustain superior application software and internet services and enable contextual marketing during the customers' daily desktop experience. DDNi's proprietary and patented platform allows PC companies and channel partners to create and maintain an ongoing branded relationship with its customers and the opportunity to increase revenues throughout the PC's lifespan. DDNi is located in Scotts Valley, CA and is a privately held company.
Microsoft, Windows 7, Windows Vista, Windows XP, and Microsoft Office is either registered trademarks or trademarks of Microsoft Corporation in the United States and/or other countries.
Contact:
Mark Peterson / Bill Cox
Experience Communications for DDNi
831-626-4400 / 208-381-0001
mark(at)experiencecom(dot)com / bill(at)experiencecom(dot)com
###