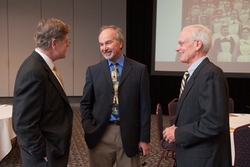 "We see aging as a critical issue in the years ahead, impacting our health, social and financial systems," said Pat Ward, executive director of the Deaconess Associations Foundation. "We have to face up to these challenges."
Cincinnati, Ohio (PRWEB) November 23, 2010
One-third of our $2 trillion annual health care budget could be cut by focusing on preventative health care for senior citizens, said Dr. Roger Landry at the recent "Vital Signs Forum on Aging" in Cincinnati.
Landry is a medical doctor and president of Masterpiece Living, LLC, a Florida-based nonprofit organization focused on helping seniors age successfully. He spoke at the third annual aging forum sponsored by Deaconess Associations Foundation (DAF).
"We see aging as a critical issue in the years ahead, impacting our health, social and financial systems," said Pat Ward, executive director of the Deaconess Associations Foundation. "We have to face up to these challenges."
Only three percent of federal funds each year are spent on preventative health care, said Landry, yet 36 percent of all health care funds go to people over the age of sixty-five.
Landry said Dr. Jonas Salk, inventor of the polio vaccine and a member of the MacArthur Foundation Study on Aging, became interested in the 1980s in why some 82-year-olds were on cross-country skis while others were in wheelchairs. Landry has summarized the 10-year study and writes extensively on the subject.
He identified from the study ways senior citizens can age successfully and stay in their homes longer. They are: Use it or lose it (move and exercise); Challenge your brain; Stay connected with family, friends; Love risks; Never act your age (challenge yourself); Wherever you are, be there (focus); Have grandchildren, plants around; and Laugh.
"Older adults can grow," he said. "When we stop growing, we die."
He acknowledged that the federal government is unlikely to change senior health care without more definitive research on successful aging, and announced that Masterpiece Living will begin a $300,000 study with the city of Boston in 2011 to look at unscheduled health care events with high-risk patients.
"Senior citizens who are hospitalized and need post-operative care are often high risks for re-hospitalization," Landry said. He said the two- to three-year study will look at what works with senior citizens, obtain data, and build a compelling argument to improve preventative senior health care in the U.S. The study will include about 50 families and use life coaches to help seniors engage in goal-setting that resonates with them.
DAF awarded Hebrew Home of Riverdale, New York, its inaugural $25,000 Innovation Award for implementing a seven-day-a-week, overnight medical care program for Alzheimer's patients who live at home with caretakers. The prize was awarded to an organization that enables older adults to experience more vibrant, active and fulfilling lives.
There are an estimated 5.3 million Americans of all ages who suffer from Alzheimer's disease, and about 11 million Americans nationally provide unpaid care for a person with Alzheimer's disease or another dementia, according to the Alzheimer's Association Web site.
Hebrew Home's ElderServe program has been ongoing for 12 years, said director of adult day/evening services Deborah Messina. The program allows Alzheimer's patients to stay with their families and in their communities.
As Alzheimer's disease progresses, evenings become a challenge for caretakers. Many Alzheimer's patients experience "sundowning," a symptom of dementia in which circadian rhythms are disrupted and patients spend fitful, sleepless nights, which overwhelm and exhaust caretakers.
ElderServe is the only overnight elder care program in the nation and has not been replicated, said Messina, perhaps because Medicaid reimburses Hebrew Home for only about five of the 12 hours of medical care offered per night. The care is couched in recreational programming using massage therapy, touch therapy, and aromatherapy. It took about five to six years for the program to become profitable, she said, but now the program has a waiting list.
Landry said that senior health care in the U.S. is like a cruise ship: it's not easily turned. Yet it can be turned, he stressed, with a new preventative care focus on engaging senior citizens, encouraging them to achieve small goals and helping them stay connected with their communities.
Landry also lauded Deaconess for its implementation of the Independent Transportation Network (iTNGreaterCincinnati), which provides rides for the elderly and visually-impaired. The program, which began in May, 2010, averages 200 rides a month, said director Nancy Schuster. The service is provided by volunteer drivers.
For more information about the Deaconess Associations Foundation or its Innovation Award, go to http://www.livefull.org.
About the Deaconess Associations Foundation
Deaconess Associations Foundation's (DAF) mission is to find innovative solutions to complex healthcare challenges. FullLife is an outgrowth of Deaconess Associations Foundation's efforts to offer solutions to the challenges of aging. The Foundation sees aging as the critical issue facing our country in the years ahead. The large percentage of the population entering retirement will challenge our healthcare system and our financial system – as well as our stereotypes about aging. More information about the Deaconess Associations Foundation is available at http://www.DeaconessFoundation.org.
###