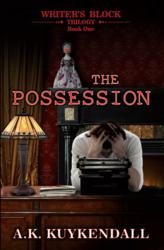 [The Possession] will move readers directly into a whirlwind that just might be a never-ending twilight zone...If you're a fan of the creepy movie, The Hitchhiker, you'll know why I close with 'Thanks for the ride.' — G. A. Bixler, IP Book Reviewer
New York, NY (PRWEB) November 26, 2012
Felsen Press announces the release of The Possession, Book One in the Writer's Block Trilogy, by critically acclaimed horror author A.K. Kuykendall ($20 Paperback 978-1-936085-71-2; $29 Hardcover 978-1-936085-67-5; $9.95 eBook 978-1-936085-68-2). Writer's Block Trilogy: The Possession is a dark horror story and psychological thriller. With no way to tell what is truth and what is fiction from the protagonist's perspective, The Possession takes the horror factor from the realm of fiction into the realm of reality. As the first volume of the Writer's Block Trilogy, The Possession reads like a well-executed horror movie and will leave readers on the edge of their seats, chewing their nails, anxiously turning the pages as they await a resolution.
In The Possession, Gregory Stillingsworth is a world-renowned horror writer destined to reach the very top in his genre, even surpassing the greats like Koontz, King, etc. Or was he? Was he destined, instead, to live the life carved out for him by his cursed forebears? Upon embarking on his next big project, Gregory runs out of words for the very first time in his career, a phenomenon that sends him into an uncontrollable rage that eventually leads him to engage in the dark pleasures of murder. Is this unexpected rage an extreme reaction to the stresses of writer's block? Or is it the unveiling of his true role among us, a scribe born into this world only to write of the coming Armageddon?
"My works I fervently herald as fact-based fiction that will challenge your beliefs," declares author Kuykendall in a recent interview with Decent Hill. "This story is a panoply of my own morbid fears, deep rooted personal phobias, and contemplations. It'll undoubtedly tap into a fear, in you, that has long been dormant."
Albany, GA native and critically acclaimed author A.K. Kuykendall, of the Conspirator's Odyssey: The Evolution of the Patron Saint fame, is set to embark on a series of book signing events and media interviews in the Miami area and around the country.
Felsen Press, an imprint of Decent Hill, is a leading publisher of critically acclaimed fiction and non-fiction titles. Retailers can order copies of Writer's Block Trilogy: The Possession through Ingram and other book distributors. This title is also available at reputable retailers like Amazon, Barnes and Noble, Diesel eBooks, etc. and directly from the publisher.
Book reviewers, TV and radio show hosts, reporters, and bloggers can instantly download a review copy of this title here. Please send notices of posted reviews or interview requests to the contact info listed at the top of this release or by calling (866) 688-5325.