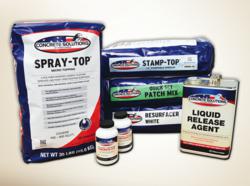 San Diego, Calif. (PRWEB) June 26, 2013
Rhino Linings Corporation, a leader in protective coatings and linings, has launched a redesigned website for the complete line of Concrete Solutions decorative concrete overlay systems at http://www.concretesolutions.com.
Rhino Linings acquired the Concrete Solutions product line in 2011, and the new site has not only been rebranded to reflect that ownership, but has also been reorganized and given new functionalities to make it easier for property owners, installers and decorative concrete product distributors to find the products and information they want.
The Concrete Solutions product line offers a large number of products and systems. In order to make the site easy to navigate, each flooring system has a feature page that includes installation instructions, pictures, product data sheets and a list of the materials needed in one location.
Decorative concrete system pages also link to how-to videos that detail every step of the application process. Visitors have the option to view these videos from their desktop, or while on the go by using a smartphone app to snap the quick response code available on product packaging.
"We've seen a lot of growth in our concrete overlay products in just two years," said Pierre Gagnon, chief executive officer of Rhino Linings Corporation. "Rhino Linings has been able to increase the number of products sold to our contractor and sales networks, and we've also been able to expand the brand and its reach worldwide. We needed a website that supports that level of growth."
Concrete Solutions products can be purchased online or at select concrete supply stores. For more information about Concrete Solutions decorative concrete resurfacing products, or to find a local supply store, visit http://www.concretesolutions.com.
About Rhino Linings Corporation
Rhino Linings Corporation, established in 1988 and headquartered in San Diego, California, is a privately-held corporation and world leader in protective polyurethane, epoxy, polyurea and polyaspartic coatings and linings used in multiple industries and applications. Rhino Linings Corporation has a global retail and industrial applicator network consisting of more than 2000 independently owned businesses in almost 80 countries. For more information about Rhino Linings Corporation, visit http://www.rhinolinings.com.
Additional images are available upon request. Concrete Solutions® is a registered trademark of Rhino Linings Corporation.