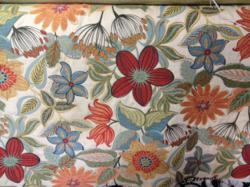 San Mateo, CA (PRWEB) November 05, 2012
This is the time of year that folks are looking for fabrics to reupholster furniture and/or drape windows to ready their homes for the Thanksgiving and Christmas holidays. Additionally, customers also are on the lookout for upholstery fabrics or curtain fabrics, in fall and holiday colors, with which to brighten up the home.
Among the vast selection at Norman S. Bernie Co. here are some of the beautiful fabrics available now: From Swavelle/Mill Creek Fabrics: "Branching Out: Calypso", a beautiful leaf pattern in purples and light lavenders and "Ooh La La: Carnival", an eye-popping multi-colored abstract floral; from Bravo Textiles: "Serinda: Apple" and "Odienne: Cornucopia", an exquisite pattern of vines with leaves in red, green, and gold, like holiday lights; from Heritage House, "Valencia: Gold", a tone on tone damask ideal for tablecloths and/or runners; stripes and plaids in reds and greens from trusted names such as Waverly, P/Kaufmann; lovely crushed poly sheers & taffetas, also in reds and greens, from Crestmont and Softline; and many more.
And among the newly arriving patterns reordered for the holidays are "Southgate": Garden, from Golding Fabrics, a gorgeous latticework pattern in red and green, perfect as an upholstery fabric or a drapery fabric; and from Lacefield Fabrics, ever-popular print of French document labels,
"Document: Fossil".
The clock is ticking and Thanksgiving and Christmas are just around the corner. Now is the perfect time to shop early to get the beautiful upholstery fabrics and curtain fabrics for the upcoming holidays, available now at Norman S. Bernie Co., the San Francisco Bay Area's one-stop decorative fabric destination.
To see these new arrivals and many more exquisite decorative fabrics arriving daily, including prints, chenilles, velvets, novelty jaquards, and more at discounted prices, don't delay: Make a beeline to Norman S. Bernie Co., the one-stop decorative fabric shop, with the best deals and the most knowledgeable and helpful customer service.