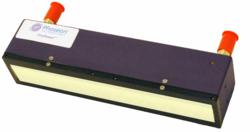 Hillsboro, Oregon (PRWEB) March 06, 2013
Phoseon Technology will present a paper at the European Decorative Surface Conference taking place March 12-13 at the Radisson BLU Hotel in Berlin, Germany. The conference will cover all discussions about the décor industry for decorative laminates and other surface products used in furniture, cabinets, flooring and more.
Phoseon's UV LED curing solutions are being utilized in the wood coating industry because they offer advanced capabilities, improved operating economics and environmental advantages. Rob Karsten, Director Sales & Marketing – EMEA at Phoseon Technology, will give a half-hour presentation on "Implementing UV LED Curing for Wood Coatings" at 2 p.m. on March 13. For more information, please see http://www.surfaces-conference.eu/conference.htm.
About Phoseon Technology
Phoseon Technology is a world leader in providing UV LED solutions for commercial and industrial applications. Phoseon's products deliver maximum UV energy, high performance, and real-world reliability for UV LED curing of inks, coatings and adhesives. The Company provides worldwide sales and support capabilities and can be reached at http://www.phoseon.com.