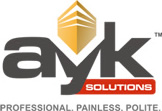 We are pleased to formalize our partnership with Secured Servers as our aspiration is to work with dedicated server providers and professionals who are experts at providing the best dedicated server solutions on the market.
Schenectady, NY (Vocus/PRWEB) January 25, 2011
AYKsolutions, a leading provider of web hosting solutions and unmetered servers, announced today their partnership with Secured Servers, an Arizona-based leader in dedicated server hosting, to offer comprehensive, cost-effective dedicated hosting solutions specifically configured for AYKsolutions customers. The new partnership enables AYKsolutions the ability to offer innovative, high performance dedicated server hosting solutions to all AYKsolutions customers.
"We are pleased to formalize our partnership with Secured Servers as our aspiration is to work with dedicated server providers and professionals who are experts at providing the best dedicated server solutions on the market," says Artyom Khmelnitsky, President of AYKsolutions. "Our partnership with Secured Servers significantly enhances our ability to offer dedicated servers that businesses and individuals need to power their websites, web based applications, email, and gaming."
The partnership with Secured Servers complements AYKsolutions' high quality dedicated hosting services and allows the company to offer secure dedicated servers exclusively available at the Phoenix, AZ data center location. The next-generation data center in Phoenix, combined with Secured Servers' proven dedicated server hosting network, gives AYKsolutions more reach into new markets and the ability to increase their number of managed and unmanaged dedicated servers.
"Dedicated hosting continues to be a viable solution for many businesses," says Mark Greenspan, VP of Secured Servers. "By forging alliances and partnerships with quality organizations such as AYKsolutions, we can reach additional market segments and effectively meet the rising demand. The high quality services AYKsolutions provide, highlights their commitment to dedicated hosting, and we are thrilled to be associated with them."
With Secured Servers' high quality dedicated server options, Tier 1 backed network and proven technology to achieve maximum performance, cost-effectiveness and increased stability, AYKsolutions customers receive a higher level of service and operational savings. The partnership also enables both companies the ability to provide the reliability, stability, and the scalability necessary to grow with their customers' needs and continue operating at peak efficiency and performance across geographically diverse areas.
"Our partnership with Secured Servers gives us the ability to offer exclusive features that are only available to AYKsolutions customers," says Khmelnitsky. "AYKsolutions dedicated server hosting customers and anyone interested in having their dedicated servers hosted in our Phoenix, AZ location, receive 10TB outbound and free inbound with any Secured Servers server, double RAM, and an upgraded hard drive at no additional charge on select dedicated server hosting packages."
AYKsolutions' 100TB upgrade offer lasts until July 2011. The AYKsolutions/Secured Servers partnership focuses on providing superior service to dedicated server hosting customers. By entering into a strategic partnership, AYKsolutions and Secured Servers can deliver a higher level of performance, reliability, uptime, faster network connections, and many other features and services available to all customers. Dedicated server hosting customers are encouraged to visit AYKsolutions.com to learn more about the exclusive line of dedicated servers.
About Secured Servers
Founded in 2003, Secured Servers has a rich history of providing quality web hosting solutions to meet a wide variety of needs. Featuring fast, reliable servers that can be used for online gaming, video/audio streaming, software development, e-mail, data storage and more, Secured Servers capitalizes on established relationships with bandwidth providers and IT companies to bring value to the market through its innovative service offerings, technologies, and processes. Leveraging a next generation data center, Secured Servers complements its dedicated hosting solutions with redundant power feeds, fiber connectivity options, 24/7 monitoring, and 24/7 support. Secured Servers is headquartered in Tempe, Arizona.
For more information about Secured Servers, visit http://www.securedservers.com/.
About AYKsolutions
AYKsolutions LLC. is a leading web hosting company that has been providing high quality hosting services since 2004. AYKsolutions offers a comprehensive range of web hosting solutions to meet the needs of Internet professionals and enterprise customers. The company's product line includes shared hosting, dedicated server hosting, VPS hosting, reseller hosting, cloud hosting, and Vault Data Protection. With a roster of high-end data centers across the US and now Europe, AYKsolutions is able to provide dedicated clients with innovative and improved service levels and a professional, painless, and polite hosting experience.
For more information about AYKsolutions, visit http://www.ayksolutions.com/.
###