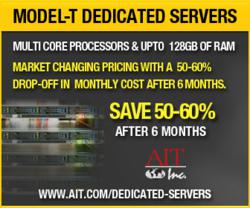 With AIT, individuals and businesses can save anywhere from $3,000 to $12,000 or more over the course of two years on their dedicated server.
Fayetteville, NC (PRWEB) March 22, 2013
Fayetteville, NC Advanced Internet Technologies, Inc. (http://www.AIT.com) announced today that it has just deployed a new pricing model for Dedicated Servers that will drive incredible value for their customers and force competitors to alter their current offerings. "With our new Model-T Dedicated Servers, customers can configure their own dedicated servers and pay industry standard prices for only six months before the pricing is reduced to a low monthly service fee that is 50-60% of the original price," said Byron Briggs, Senior Manager and son of Clarence Briggs, Founder of AIT.
Inspired by Henry Ford's approach to the Model-T, AIT's Model T Dedicated Servers are the first affordable, high end Dedicated Server offering available to all classes of customers. AIT has redesigned its entire production environment to offer the best of breed Web Hosting solutions and the Model T is the prototype for a new web hosting paradigm complete with a new provisioning system that facilitates best practices, interoperability with robust infrastructure.
As a result, customers can customized their "Model T" Servers in a matter of minutes and build their production environment immediately. The new provisioning methods employ some advanced technology and represent a significant investment for the 16 year old web hosting company.
"We are excited and want to get the word out," said David Green, head of AIT's marketing. "There is absolutely no reason why customers would go anywhere else when they look at our servers, network and technical specifications combined with the new pricing model and great customer service. By reducing the monthly bill by 50-60%, customers can save thousands. We have compared our configurations with some stop competitors, and with AIT, individuals and businesses can save anywhere from $3,000 to $12,000 or more over the course of two years by switching to AIT." said Green.
Advanced Internet Technologies, Inc., (AIT) is a privately-held North Carolina based firm specializing in Internet-based products and services. Founded as a garage enterprise in 1995 by Clarence Briggs, a service disabled veteran businessman, AIT is one of the largest web hosting firms in the world with customers ranging from small to medium sized companies to Fortune 500 businesses, state and federal government entities.
AIT maintains a 93,000 Square Foot data center in our Corporate Headquarters in Fayetteville, NC. AIT's core business is web site and application hosting. AIT is a privately-owned company and is the longest standing web hosting company in the industry. AIT has a consistent track record of unblemished profitability, a major reason why AIT is the only hosting provider to have earned a place on the Inc 500 list two times.