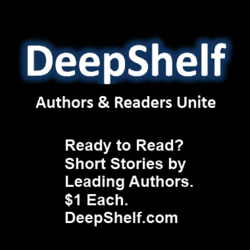 Ready to Read? Short stories by leading authors for $1. This could be the Next Generation of Publishing... DeepShelf.com
(PRWEB) March 26, 2013
A new website, DeepShelf.com, offers reading short stories by leading authors for $1 each, clean of any ads and with high appreciation to readers, authors and good stories.
"Since our leader has forbidden us to use our flashlights, I can't see, except as vague shadows, the people ahead of me marching in single file, and can't tell, in this group of strangers, if anyone else but me is veering crazily through the dunes like a drunk."
Doesn't it feel like reading the rest of this wonderful story called "Intimacy" by Roberta Allen? Now it's possible! At DeepShelf.com.
DeepShelf was born out of love for reading and writing with a vision of creating a meeting place for readers and authors without intermediaries.
"As an early stage start-up company, the Deep Shelf team takes pride in giving respect to good stories," says Founder and Editor Tomer Treves and continues, "Readers deserve reading comfortably, without intruding jumpy ads, and authors deserve to be appreciated in a respectful environment."
"DeepShelf strives to create the next generation of publishing", explains Treves, "and the business model is simple. Pay $1 for each story. This guarantees readers a fair price and offers authors a fair income. The publishing industry today charges high prices from readers, but intermediaries keep most of the money."
The team of authors gathered together for the DeepShelf launch is remarkable. It includes acclaimed author, Professor Janet Burroway, whose textbook: Writing Fiction: A Guide to Narrative Craft is the most widely used fiction writing text in America, as well as other notable authors who are also prominent writing teachers, like Professor David Galef, Professor Michael Martone, and Professor Judith Ortiz Cofer.
All participating authors have published several books, their work has appeared in numerous publications and has granted them awards, and now they take their first steps in this new model of publishing with DeepShelf. Readers are invited to browse through captivating short stories by Roberta Allen, Mark Budman, Zdravka Evtimova, Sherrie Flick, Bayard Godsave, Robin Hemley, Kirk Nesset, and Stephanie Waxman.
The stories at DeepShelf are presented with their first paragraphs and accompanying photos, so readers can enjoy the process of choosing which stories to continue reading. Payment is possible with PayPal or any credit card. Anyone who appreciates reading stories is invited to try by visiting: DeepShelf.com - Read Stories by Leading Authors.