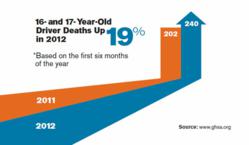 Dallas, TX (PRWEB) March 27, 2013
After a decade of steady drop in teen drivers death statistics show that the trend has stopped and in fact reversed.
Mr. Kyle Collins, founder and Texas defensive driving instructor at WirelessDefensiveDriving.com, has noticed that teens are also increasingly more distracted while driving, especially due to the increase in usage of smartphones while driving.
These are the results in of the study in a nutshell:
1. Deaths of 16-year-olds is +24% – from 86 to 107 deaths
2. Deaths of 17-year-olds is +15% – from 116 to 130 deaths
3. 25 states reported increases; 17 reported decreases; 8 states and the District of Columbia reported no change in the number of 16- and 17-year old driver deaths
4. Six states – Alabama, Arizona, Indiana, Kentucky, Louisiana and Tennessee had deaths increase by more than five.
5. Two states showed double-digit increases in teen driver deaths: Indiana (+13) and Tennessee (+10)
6. Florida and North Carolina showed substantial drops in teen driver deaths, down nine and eight, respectively
7. Washington went from six deaths to zero
According to Dr. Allan Williams, a researcher who surveyed the data from the GHSA this change is presumed to be related to the economic recovery and the fact that more teens are on the road increasing the exposure to possible accidents.
The GHSA (http://www.ghsa.org/html/publications/spotlight/teens2012.html) did point out several key findings as to why teen driver deaths remain low:

An increase in Graduated Driver Licensing laws that enact curfews, bar nonfamily passengers and require parental supervision for a set number of hours. All 50 states now have them; most went into effect between 2005 and 2010. However, not all laws are the same or equally stringent.
The recession, along with higher gas prices and unemployment, likely led to the first significant decline of teen driver deaths starting in 2008.
Cellphone and texting bans in 31 states may have contributed to lower deaths, although the GHSA says this is essentially a guess as not enough studies have confirmed whether people of all ages are actually following the laws.
In addition to better training and safer cars, Mr Kyle Collins, founder of WirelessDefensiveDriving.com, cites the importance of involving parents in driver education.
"Parents have a large degree of responsibility to ensure a defensive driving behavior," he said. "States can help the parents involvement by providing new programs that bring parents and teens together trying to solve this issue."
----
WirelessDefensiveDriving.com
5470 West Lovers Lane
Dallas, TX 75209