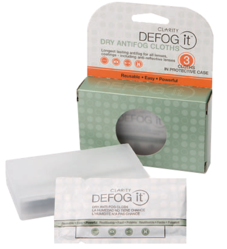 How very exciting to find a product that will keep us from tossing our glasses off and risking injury because they fog up!
Valley View, Ohio (Vocus/PRWEB) January 11, 2011
When tree care professionals suit up for the Arizona Tree Climbing Championships on January 15, 2011, Defog It antifog will be part of their safety gear. Event organizers chose to provide Defog It antifog to every arborist as a way to help keep competitors' safety glasses and goggles fog free in the heat, humidity and exertion of the event's five grueling trials.
Jesse Huffman, one of the Arizona event organizers, contacted Defog It after reading a product review in TreeBuzz, a professional arborists' website. Said Huffman, "How very exciting to find a product that will keep us from tossing our glasses off and risking injury because they fog up!"
"Word is spreading throughout the tree care industry that Defog It antifog keeps safety eyewear fog free, so arborists can see clearly and work safely," said John Swett, Vice President of Sales and Marketing for Nanofilm, maker of Defog It.
The Arizona competition includes aerial rescue, belayed speed climb, foot lock and work climb events, followed by a Master's Challenge for the top five contestants. The winner of the Arizona championship, sponsored by the Arizona Community Tree Council, will qualify to compete in the Tree Climbing Championship of the Western Chapter of the International Society of Arboriculture, January 29-10 in San Diego, CA.
First used by the military worldwide, Defog It is the proven safety choice in the toughest workplace environments where heat, cold, humidity and exertion cause fogged safety eyewear. It's used in forestry, utilities, pulp and paper, mining, chemical processing, law enforcement and other industries. The product is safe and effective on safety glasses, goggles and faceshields.
Rigorous lab testing confirms the real-world high performance of Defog It antifog. In one test, a lens treated with Defog It was held over constant hot steam for 60 minutes without fog forming. Similar products failed in as little as 5 minutes. In another test, lenses coated with Clarity Defog It were moved between cold and hot environments 100 times without fog forming.
Defog It is available as a liquid or reusable cloths. More information, pricing and performance videos are available at http://www.defogitworks.com or by calling 1-888-ENDS-FOG.
Nanofilm, founded in 1985, is the maker of Clarity Defog It and a global optical leader in lens care and coatings. Millions of people around the world use Nanofilm products, including Clarity Clean It™, Clarity Defog It™ and other lens care products, as well as nanotechnology-enabled coatings.
###