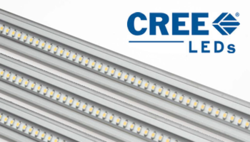 By choosing DEKOR™, you have access to CREE's unparalleled innovation and proven technology that delivers the industry's most reliable and highest performing LEDs
(PRWEB) April 18, 2013
DEKOR™ has made its name by making innovative LED lighting products that transcend the deck industry. Now DEKOR™ has joined CREE in promoting quality LED lighting as a CREE LEDs Branding Partner.
"Looking for new ways to better serve our customers is paramount to what we do at DEKOR™," said Duane McCall, President and CEO. "Today I am extremely proud to announce the new branding partnership between DEKOR™ and CREE LED, located in Durham, North Carolina. CREE is recognized as the leader in LED components for lighting and is the most trusted name in the LED industry. CREE has spent over 20 years developing an array of new technologies that far surpass its competitors, setting the standard by which all other LEDs are measured."
DEKOR™ has been committed to bringing LED technology to the home since its early days. This new partnership is the latest step in DEKOR™'s evolution. The value and meaning of becoming a CREE LEDs Branding partner cannot be understated. In the words of Mr. McCall, "It means legitimacy and credibility. Consumers now understand LED technology is here. It's going to be even more pronounced as time goes on, so what separates one LED lighting product from another is going to be the pedigree of the LED."
DEKOR™ + CREE LEDs: BEST IN CLASS LED LIGHTING
"DEKOR™ has partnered with CREE to give you the best lighting possible. These new lights are 25% brighter and are longer lasting. By choosing DEKOR™, you have access to CREE's unparalleled innovation and proven technology that delivers the industry's most reliable and highest performing LEDs," says Mr. McCall.
CREE LEDs are known for:

Superior performance
Superior energy efficiency
High quality
Long life
Super bright light
Mercury-free
A higher L Value ( less "light loss" over time )
A higher CRI or Color Rendering Index than typical LEDs
( faithful color reproduction compared to an ideal or natural light source )
"All light bulbs fade over time but CREE LEDs stay brighter longer and last longer. The result is a far better quality lighting experience over the lifespan of your LED lighting product," added Mr. McCall.
DEKOR™ + CREE LEDs: BETTER PRODUCTS, BETTER VALUE
DEKOR™ sees its new partnership with CREE as a game changer, enabling them to deliver better products and better value. "For the same dollar spent last year, you are getting a much more robust product" said Mr. McCall.
Customers will also appreciate that DEKOR™ products have "CREE LEDs inside" … in terms of confidence in the product and in peace of mind.
"CREE LEDs are the industry's most reliable and best performing LEDs," said Mr. McCall. "They are also continually being upgraded, and being made smaller and brighter. By buying DEKOR™ LED lighting products with CREE LEDs, you will always be getting leading edge technology."
"Currently our line of LED Under Cabinet Lights and new LED Landscape Lights use CREE LEDs. We expect the rest of our product lines to be converted over to CREE LEDs by August 31 of this year," added Mr. McCall.
To learn more about DEKOR™'s partnership with CREE, please visit the DEKOR™ website:
http://www.de-kor.com/cree-leds.html
ABOUT DEKOR: LIGHTING FOR LIFE
We use innovative LED technology to create quality, long lasting products to enhance your lifestyle and your home.
Over the last eleven years DEKOR™ has grown from its roots as a premium baluster manufacturer into a leading designer and innovator of LED lighting products that transcend the deck industry. As our list of satisfied customers has grown overwhelmingly, they all appreciate the durability, look, and ease of installation of our products. Simply put, our products give unprecedented quality and performance with the utmost long-term value.
DEKOR™ is an EnergyStar Partner.