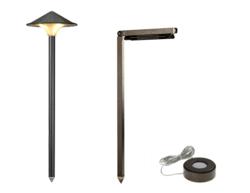 Our goal is to add a complete portfolio of LED landscape lights to our Millennium Outdoor Collection.
(PRWEB) June 11, 2013
DEKOR™ is proud to introduce three new waterproof LED Landscape Lights. These new and unique landscape lighting products reflect DEKOR™'s continual quest to bring "never before seen products" to the marketplace, and to give homeowners new and creative choices for adding dramatic lighting effects to their landscape projects.
The Ginny Light: 180 Degrees of Positioning Freedom
"The Ginny LED Landscape Light has a sleek, contemporary look and is named after someone very special to the designer of the light. It is useful for both pathway and façade lighting. The versatility comes from the fixture's design; it has a hinged joint allowing a full 180° of articulation. Therefore, the fixture can be angled to face completely down for pathway lighting, or completely back for uplighting, and everywhere in between," explained Mr. McCall.
When in the down position, the Ginny produces a focused, rectangular beam of light. When articulated another direction, the Ginny Landscape Light can be used to light up a tree, large shrubs, or the façade of a house.
The Empress Light: a Diamond in the Night
"The Empress Landscape light is our new garden light or path light," said Mr. McCall. "It's very easy on the eye with a somewhat traditional form factor and smooth flowing lines. And yet this light is truly different from similar looking lights in at least three key aspects. First, the top of the light is faceted like a diamond and is designed to shed water easily so water will not stagnate or accumulate to make the light look dirty. Second, the transparent Lexan shield keeps the bugs, dirt, and water out of the light. This new landscape light is virtually maintenance free, thanks to DEKOR's unique design."
"The third and probably the coolest design feature," enthused Mr. McCall, "is how you can easily customize the light pattern. The light has 3 groups of 4 CREE LEDs strategically placed at 120° angles. By simply unplugging one or two of the waterproof connectors located under the light housing, you can vary the spread of the light, giving you more design possibilities."
The Puck Light: Uplighting Made Easy
"What's neat about the Puck Landscape Light is that it is surface mounted," said Mr. McCall. "It's about the size of a hockey puck, and can be positioned on any yard surface, no digging required. It's fairly heavy, and won't be blown around. It is also waterproof – safe from sprinkler systems. The light can also be nestled in pebbles or stones for a very attractive "recessed" look or almost completely covered."
"You can hide this light so completely, you won't really know it's there," continued Mr. McCall, "but it's very bright. It's designed for up-lighting the perimeter of a feature. The Puck Light can be placed around a shrub or architectural detail. You can light a tree from the ground up or a 90° corner. Lots of light from a very small package!"
CREE LEDs Inside
All three lights cast a natural looking, soft white light. These new lights share the same "warm white" color spectrum as DEKOR™'s other LED lighting. The lights use high performance CREE LEDs. "These new lights are 25% brighter and are longer lasting," explained Mr. McCall. "They are ultra-efficient with long life, and have very high reliability under a wide range of environmental conditions, making them ideal for outdoor landscape lighting use."
"CREE LEDs are the industry's most reliable and best performing LEDs," continued Mr. McCall. "They are also continually being upgraded, and being made smaller and brighter. By buying DEKOR™ LED lighting products with CREE LEDs, you will always be getting leading-edge technology, and 'Best-In-Class LED Lighting'."
A Quality and Robustness You Can Feel
DEKOR™ takes pride in building products with a "quality you can feel." The products have a weight and heft to them when you pick them up, reflecting the solid construction and quality of materials used. "These new lights have that robust feel that our customers have come to expect from DEKOR™," explained Mr. McCall. "The housings are made from aircraft grade aluminum, and are treated to resist corrosion prior to the powder coating process. The waterproof CREE LEDs are protected by extremely strong, UV stable polycarbonate lenses that will not crack or yellow with age."
DEKOR™'s first entry in the landscape lighting marketplace was enthusiastically received both by customers and by distributors / sales professionals alike. "People were really excited about it. Many were floored by the quality for the price when compared to similar products on the market," said Mr. McCall. "Their response confirmed what we've known all along - there is a demand for high quality, high value LED landscape lighting made right here in the USA, just like there is for the outdoor and deck lighting products that are the core of our business."
Made in America
Each landscape light is built at DEKOR™'s manufacturing facility in Denver, Colorado. "Some of the world's best products are still made in America," said Mr. McCall, "and DEKOR™ products, with our industry leading warranties, are part of that tradition. We believe in 'American Craftsmanship', and work hard to build our products to exacting standards, using only the highest quality components and materials."
"Our CREE LEDs are manufactured in Durham, NC," continued Mr. McCall. "By becoming a CREE LEDs Branding Partner, we not only upped the quality and reliability of our products, we increased the percentage of US-originated parts and components in our products overall."
"Finally," said Mr. McCall, "all our powder coating is done locally at Mile High Powder Coating, our sister company. Our powder coatings are specifically formulated for UV protection, and are significantly thicker than average, allowing us to offer our industry-leading DEKOR™ warranties year after year."
Coming Soon: a Full Portfolio of Led Landscape Lights From DEKOR™
Mr. McCall said that that DEKOR™ looks forward to introducing more landscape lighting products in coming months. "We intend to release at least 6 new landscape lights this year. Our goal is to add a complete portfolio of LED landscape lights to our Millennium Outdoor Collection to complement our existing LED deck lighting and railing products."
DEKOR™'s Empress, Ginny, and Puck Lights come with DEKOR™'s 5 year / 30 year warranty. To learn more about DEKOR™'s new LED Landscape Lights, please visit the DEKOR™ website:
http://www.de-kor.com/led-landscape-lights.html
About DEKOR: Lighting for Life
DEKOR™ uses innovative LED technology to create quality, long-lasting products to enhance your lifestyle and your home.
Over the last eleven years, DEKOR™ has grown from its roots as a premium baluster manufacturer, into a leading designer and innovator of LED lighting products that transcend the decking industry. As the list of satisfied customers has grown overwhelmingly, they all appreciate the durability, look, and ease of installation of our products. Simply put, our products give unprecedented quality and performance with the utmost long-term value.
DEKOR™ is an EnergyStar Partner and a CREE LEDs Branding Partner.