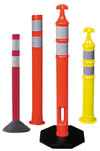 (PRWEB) March 01, 2013
Stop-painting.com offers multiple delineator posts for every individual need. The delineators offer high visibility and lasting quality. Traffic delineators are very useful in directing traffic whether that be car, foot, or forklift traffic. The delineators have multiple options when ordering. Stop-painting.com has both a temporary and permanent solutions for delineator posts. The base options are rubber, plastic, or aluminum base.  The aluminum base can be screwed into the pavement for permanent installation. Some of the posts are designed to have a weighted base for easy relocation. The rubber bases are great for temporary location along with some post having an easy grab handle for comfortable carrying.
In the warehouse the delineators can be used to direct foot or forklift traffic.  Delineators are great for floor marking, place holders, and walkways.  Delineators can prevent accidents and keep visitors and employees moving smoothly.   
The delineators can be installed using butyl pads or two part epoxy. The butyl pad is the most common method of installation of delineators. The butyl pads come in four or eight inch pads. It is a simple peel and stick method. The epoxy method is blending a part "A" and a part "B" to result in the adhesive. After mixing the adhesive, apply it to the surface allow it to fuse with the post and the floor surface.
The post can come with different variations in reflective bands and colors. For example, one particular post can come in zero, one, two, or three bands. The posts are available in yellow, white, orange and many more colors. Other options for pedestrian walkways and warnings are available on the delineator page.
The flexible Re-bounder is one of the more popular post and can be used in many different ways. The post is made to be able to take impact from vehicles and rebound while causing little to no damage to the vehicle. The Flexible Rebounder posts are commonly installed in places where space is limited but visibility is important.
Superior Mark Tape is manufactured by Stop-Painting.com and is a great option to combine with delineator posts. The tape is designed to withstand heavy forklift traffic and designate areas in the warehouse. Superior mark is designed with a recessed adhesive and beveled edges, which is what gives the tape its resistance from to forklift and other heavy traffic. The tape is easy to apply and can be removed with ease when necessary. Superior Mark is an advanced alternative to vinyl tape and paint.
Contact details
To request a complimentary sample of Superior Mark floor tape and Corners, visit the manufacturer's website, http://www.stop-painting.com. Stop-painting.com is the leading expert on industrial floor marking and designs floor marking solutions for traffic control, Lean/5S organization, industrial safety, OSHA compliance, and other custom applications. The parent company, InSite Solutions, holds a patent for a traffic marking tape design. For more information, please contact Cliff Lowe at 1-866-284-1541.