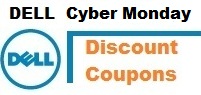 Save up to 50% off with these Dell Cyber Monday deals and coupons.
(PRWEB) November 25, 2012
New Dell Cyber Monday deals and coupons have just been listed on Bizwaremagic.com, a handy website which features a comprehensive online laptop buyer's guide. As a part of this guide and as a service to its visitors, this helpful site regularly posts many of the latest coupons and deals - including those for Cyber Monday from Dell.
Similar to Black Friday, Dell will be presenting eight rounds of doorbusters throughout the day - 12AM EST, 3AM EST, 6AM EST, 9AM EST, 12PM EST, 3PM EST, 6PM EST, 9PM EST. Each round will offer four new doorbusters every three hours - but don't expect these items to last long, since quantities are limited and the demand will, no doubt, be strong for these discounted products.
Featured Dell doorbusters include the following: $179 off Dell Inspiron 15 laptop for $389.99 with free shipping; 36% off Dell Inspiron 660s slim tower desktop for $349.99 with free shipping; $175 off Dell XPS 8500 desktop for $699.99 with free shipping and Vizio E-Series 47-inch E471VLE LCD HDTV for $499.99 with free shipping. Plus, many more attractive Cyber Monday offers for 2012.
There are also many Dell leftover standing offers from Black Friday, including an extra $100 off Dell XPS 14 Ultrabook, $339 off Inspiron 17R Special Edition Laptop and an extra $100 off Dell XPS 15 laptop. Remember, quantities are limited and buyers should check the Dell site for all Terms and Conditions.
Cyber Monday makes reference to the time when holiday shoppers would wait until Monday to do their purchasing on the much faster computers with high-speed Internet at the company office or place of work. These days this distinction has become blurred because most people now have high-speed Internet at home. Online shopping is now a big part of Black Friday and the whole Thanksgiving weekend, plus Cyber Monday and the days following it. Actually, most major retailers and merchants, have turned the days leading up to Thanksgiving and the days following it, into one big super promotion.
Dell is no exception, it is offering excellent bargains and savings on many of its big name products such as Alienware, XPS and Inspiron laptops and desktops. Many of these deals or coupons are limited, once quantities have sold out, the offer is removed.
Obviously, the most attractive deals, such as doorbusters or breakers can sell out within minutes - especially in the online environment where you could potentially have millions of buyers and a sale is only a click away. Most Cyber Monday shoppers know they have to act fast to get the best deals, but it also pays to check out the merchant and return policies before making any purchase online.
For those holiday shoppers who shop online, a whole list of Dell Cyber Monday deals, discounts and coupons can be found here: http://www.bizwaremagic.com/Dell_Notebook_Coupons.htm All products/companies mentioned above are registered trademarks of their respective owners and companies.