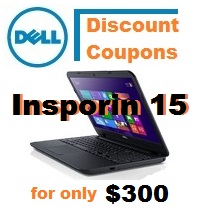 Savvy online shoppers can get this Dell Inspiron 15 laptop for only $299.99 - with free shipping.
(PRWEB) March 16, 2013
Recently, a new discount laptop coupon offering the Dell Inspiron 15 for $300 was listed on Bizwaremagic.com, a business site which features a comprehensive notebook computer guide. As a part of this laptop guide, new discount coupons are regularly added so that laptop buyers can get the best online deals and bargains.
This current coupon is for the Dell Inspiron 15 laptop, sporting 4 GB of Channel DDR3 1600MHz RAM or memory, a 320GB Hard Drive and the 64-bit Windows 8 operating system. It also has the Intel Celeron processor 1007U, Intel HD graphics, 8X CD/DVD Burner and a 15.6 HD (720p) WLED with Truelife (1366x768) display. This laptop also comes with free shipping from Dell.
Keep in mind, this discount offer is limited and may be discontinued at any time. Potential buyers have to use a special coupon at checkout and are advised to see the Official Dell site for all terms and conditions.
Regardless, this is one of the lowest prices (outside of Black Friday or Cyber Monday) for an Inspiron 15 laptop which has been presented for the online consumer. This laptop can be used by students, workers, children and can even be used as a second laptop around the house or for the cabin. Smart online shoppers could benefit from checking out this attractive bargain or discount, especially if they're in the market for a very affordable laptop.
The Bizwaremagic site runs a special Dell Coupons page where savvy online shoppers can get great deals, including this special Dell $300 Laptop Offer here: http://www.bizwaremagic.com/Dell_Notebook_Coupons.htm or download our comprehensive laptop buying guide here: http://www.laptopcomputerguide.org All products/companies mentioned above are registered trademarks of their respective owners and companies.