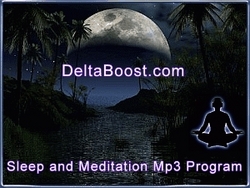 Santa Cruz, CA (PRWEB) November 4, 2009
Brainwave Entrainment is fast becoming the most talked about personal development tool in the marketplace. Users swear by the "feelings of well-being" that accompany the usage of brainwave entrainment meditation music on a consistent basis. This feeling of well-being didn't overcome the fact that many of these users had to spend $300 to $600 or more a year for some of the brainwave entrainment programs in the marketplace.
Founder of DeltaBoost.com, Edward Crivello observed that "the high cost of most brainwave entrainment programs prevents potential clients from buying the programs even though it would improve their lives. So we set out to find a way to get this technology into as many users' hands as possible at an affordable price."
"In addition," he continued, "while everyone can benefit from listening to brainwave meditation MP3s we realized that college students, unemployed and underemployed individuals, and those suffering from anxiety and depression would receive the most benefit from our brainwave entrainment program. Many of these individuals are unable to afford the higher priced brainwave entrainment programs. So we made it affordable for them without sacrificing the quality."
The result is Delta Boost, a unique meditation program that uses Harmonic Box X technology to provide a deeper, more rejuvenating experience. It takes you into a delta brainwave pattern that establishes a connection between your conscious and unconscious minds. This whole-brain thinking increases levels of relaxation, inner peace, focus, clarity, concentration, memory retention, enhanced creativity, better sleep, in addition to an increased "knowing of the self."
"It cuts down on the background noise, the constant internal dialogue that we all suffer from, and allows to you to think more clearly and function more deliberately" Crivello stated, "it helps you to become more aware."
Brainwave entrainment, as we know it now, was discovered in 1973 by Dr. Gerald Oster. He realized that when a different brainwave frequency is introduced to each ear, the brain produces a third frequency equal to the difference between the two. This third frequency is known as a binaural beat and can be used to produce varying effects on brainwave patterns.
Dr. Oster also discovered that monaural beats produced the electrical activity in the brain that was responsible for entrainment. With monaural beats the same tone is played in both ears, however the tone turns on and off at a predetermined frequency.
The combining of binaural beats with monaural beats resulted in the harmonic box x technology. Brainwave entrainment using harmonic box x can produce feelings of relaxation after a long day or a stimulating pattern that can be used for studying or working late to meet a deadline. The delta sleep pattern in Delta Boost promotes whole-brain integration that produces improved cognitive ability and creativity.
A case study conducted by Dr. Thomas Budzynski was published in the Journal of Neuropathy in 1999. Dr. Budzynski identified eight struggling college students and introduced them to brainwave stimulation. The students significantly raised their GPA and even outperformed the control group. Their grades continued to rise even after the treatment ended. Another study by Dr. Siegfried and Dr. Othmer concluded that brainwave training can produce a significant increase in IQ scores with participants experiencing major improvements in confidence and self-esteem one year later.
Dr. Robert Cosgrove, Jr., M.D., Ph.D., a noted authority in biomedical engineering, likened brainwave entrainment to "an excellent neuropathy exerciser" and concluded "As such, we believe it has great potential for use in promoting optimal cerebral performance."
The Delta Boost: Delta Sleep and Meditation mp3 Program using Harmonic Box X technology will provide a deeper meditation experience resulting in an emotional cleansing of the mind and body. It benefits those who are unable to relax by producing a deep calming effect. Insomnia suffers can listen to the meditation MP3 before bedtime and enjoy a deeper, more rejuvenating sleep. It's even used by business people and athletes to gain that extra edge.
The user gets themselves into comfortable position; eyes closed, headphones on, and lets the meditation music take them away. Other benefits of the delta sleep brainwave entrainment include:
· Release of anti-aging hormones
· Advanced healing of the body and mind
· A Natural release of Human Growth Hormone
· Bridging the gap between conscious and unconscious minds
· A connection with the spiritual body
· An improved immune system
Asked how the Delta Boost can help college students, Crivello replied, "The mp3s included in Delta Boost can potentially help clear limiting beliefs and emotional energy thereby creating enhanced cognitive abilities. Some of the bonus brainwave entrainment MP3s we include in the Delta Boost package can help college students, or anyone for that matter, to "tap in" to the brainwave they require at any particular time. Whether for studying, pulling an all-nighter, or just listening and unwinding, our MP3s help you to get into your desired state."
Ed Crivello created the Delta Boost: Delta Sleep and Meditation Intensive MP3 Program to provide an affordable brainwave entrainment program to anyone who is looking to become more balanced physically, mentally, emotionally, and spiritually.
DeltaBoost.com has several articles explaining how brainwave entrainment works and the science behind the program.
If you would like to know more about brainwave entrainment visit http://www.deltaboost.com.
###