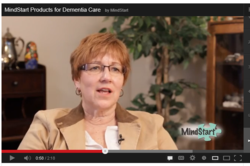 The MindStart products are so appropriate for my mom and where she is at in her life.
Minneapolis, MN (PRWEB) May 29, 2013
Alzheimer's disease and other types of dementia currently affect 5.2 million Americans (Alzheimer's Association Facts and Figures 2013). Individuals with dementia can have difficulty with recent memories and with communicating, making it hard to do tasks and to maintain relationships with others. Without the right amount and kind of support, the person can become inactive and isolated. However, the caregivers surrounding the person may not know how to help.
MindStart, a dementia care product company, designs, manufactures, and sells Alzheimer activities that are simpler; have adult, dignifed themes; and provide mental stimulation for all stages of the dementia disease process. To share the first-hand experience of the benefits the MindStart products can afford, they have released a new customer testimonial video.
In the video, titled "How the MindStart Activities Help My Mom with Dementia", Bev Stark talks about her personal experience in using the MindStart products with her mother:
"The MindStart products force my mom to think. The puzzles and word finds force her to think about things… but it is not in an overstimulating process. The puzzles and other products, I believe, slow down the rate of cognitive decline. I have seen that."
She acknowledges that there are studies that support cognitive stimulation as a form of therapy for people with dementia. One such study, the 2012 Cochrane Review of cognitive stimulation to improve cognitive functioning in people with dementia, showed that meaningful activities that are adapted to the current ability level of the person can help slow the rate of cognitive decline and can help maximize quality of life.
Bev also talks about how the products are helpful for the caregiver or visitor to communicate with the person with dementia:
"Sometimes it is hard for visitors because they do not know what to do. The MindStart products are a starting point. You can create conversations around them. People will spend more time when they visit, if they have something like this to use with their loved one."
In summary, Bev states "My mom is very independent. To be able to finish something like a puzzle is important to her self-worth and well-being. The MindStart products are so appropriate for my mom and where she is at in her life."
MindStart is a small, family owned business, started by an occupational therapist to help people with Alzheimer's or other dementias keep active and do things for as long as possible, while providing support and education for caregivers. MindStart works with dementia care experts and USA companies to design and manufacture adapted, yet dignified, activity products that are based on common hobbies and themes of everyday life that provide cognitive stimulation for every stage of the dementia disease process.