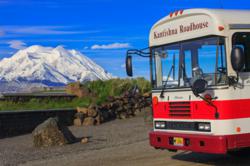 Fairbanks, AK (PRWEB) March 20, 2013
The newly opened Musher's Hall Conference Center in Alaska's six million acre Denali National Park provides the ultimate retreat environment for work teams, board members or other corporate and nonprofit groups to build rapport, launch a project or put a fresh focus on workplace goals and challenges.
This idyllic retreat space on the grounds of the historic Kantishna Roadhouse resort property offers a flexible gathering spot that can comfortably accommodate up to 25 people. Located adjacent to Moose Creek, the spacious hall is private and airy with a vaulted ceiling and large windows. The outdoor deck gives retreat participants an area for breaks and socializing. A large projection wall in the hall can be used for PowerPoint presentations or visual displays, and the hall's tables, chairs and meeting equipment can be arranged in any formation to meet group needs.
Musher's Hall Conference Center visitors have complete access to the Kantishna Roadhouse lodgings, dining facilities, full-service saloon, spa services and a wide array of wilderness activities. Onsite staff can help with all necessary meeting planning, logistics and transportation to the property, which is located 90 miles into the heart of the breathtaking park and preserve. Food and beverage options run the gamut from simple coffee and tea service to full meals with cocktails, wine and beer.
Kantishna Roadhouse Manager Marie Monroe has seen firsthand the transformation that occurs when busy professionals break away from the ongoing stream of phone calls, emails and texts and are instead immersed in the extraordinary beauty and tranquility of the Denali backcountry.
"The first group to use the Musher's Hall was a board of directors from a utility company," she explains. "It was fascinating to watch how quickly the energy shifted as they settled in. The feedback we received was that they got a lot of business done in a short period of time because of the lack of distractions."
The Kantishna Roadhouse property and the Musher's Hall Conference Center open on June 4 and are available for bookings through mid-September. For more information, contact the Kantishna Roadhouse at 1-800-942-7420, roadhouse@doyontourism.com or visit the website at http://www.kantishnaroadhouse.com.