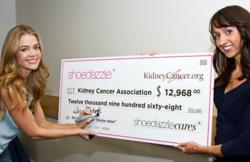 I lost my mom to this disease… my dad and I were moved by their journey.
Hollywood, CA (PRWEB) June 29, 2012
Denise Richards, who starred as Dr. Christmas Jones in the James Bond classic, The World is Not Enough, recently hosted a group of kidney cancer survivors and family members at a private luncheon in Hollywood.
The survivors were winners in a video contest sponsored by the Kidney Cancer Association. Richards lost her mother to kidney cancer in 2007. Since then, she has devoted much of her time to developing greater public awareness of kidney cancer and the need for a cure.
The star worked with the team at ShoeDazzle to produce a special sling back pump named Eloise in honor of Denise's recently adopted baby daughter. All proceeds from the sale of this shoe were donated to KCA, and the shoe was completely sold out in just a few days. The sale raised $13,000.00 to support kidney cancer research, education, and advocacy.
KCA Vice President Carrie Konosky says, "We're grateful to Denise for all she's done to help our charity. When she was in Chicago for taping an episode her of reality TV show, "It's Complicated," Denise began a commitment to bring more public awareness to kidney cancer. Today, we have new treatments for this disease, with more on the way. Much work remains to be done, and Denise has been tremendously helpful to our charity."
The winning videos from the contest will be available through KCA's website, later this year. "We're grateful to the families that entered the contest, including those who were unable to join Denise for this special luncheon. All are remarkable people with truly inspirational stories," Konosky added.
Tweeting about the event to fans, Richards said, "Spent the afternoon with two families dealing with kidney cancer. I lost my mom to this disease… my dad and I were moved by their journey."
KCA is a charitable organization made up of patients, family members, physicians, researchers, and other health professionals. It funds, promotes, and collaborates with the National Cancer Institute (NCI), American Society for Clinical Oncology (ASCO), American Urological Association (AUA), and other institutions on research projects. KCA educates families and physicians, and serves as an advocate on behalf of patients at the state and federal levels.