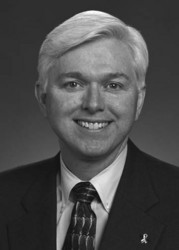 one of the Financial Planning industry's leading futurists
Greensboro, NC (Vocus) June 6, 2009
Dennis Stearns, CFP®, president of Stearns Financial Services Group , will be the featured speaker at the Nat Greene Kiwanis Club meeting at 7:30 a.m. on Thursday, June 25th at Starmount Country Club. Stearns' presentation is entitled "Economic Update: Where are the Economy and Financial Markets Headed?"
Stearns will review the anticipated convergence of three Super Trends and their concurrent megatrends during the next decade: Globalization (with China/India and emerging markets as the megatrend), the global age wave (with baby boomers and echo baby boomers as the megatrend) and technology accelerators (with health care and energy as two prospective megatrends).
"Any one of these Super Trends will dramatically affect our jobs and our families in the very near future," says Stearns, who has led and participated in think tanks around the country with top thought leaders from the government, academia and the private sector in each of the Super Trend areas. "The convergence of the three Super Trends will create changes beyond anything we have seen in the past. The Super Trends will also impact what the 'new normal' looks like coming out of the Great Recession."
Dennis Stearns has been called "one of the Financial Planning industry's leading futurists" and has led best practices workshops for the Financial Planning Association, Charles Schwab & Co., the American Association of Individual Investors and the AICPA. Stearns is available for club, corporate and industry gatherings; contact him directly at 336-230-1811.
Stearns Financial Services Group (http://www.sfsg.net) is based in Greensboro, with clients located around the U.S. and Canada. Locally owned and operated by Dennis Stearns since 1991, Stearns Financial Services Group is an award-winning, fee-only wealth management firm and investment advisor. SFSG offers comprehensive financial planning and investment management services to individuals, companies and foundations. At SFSG, they know energetic planning pays off.
Media Contact:
Linda Schumacher
Leapfrog Marketing | PR | Design
Office: (336) 544-2911
# # #