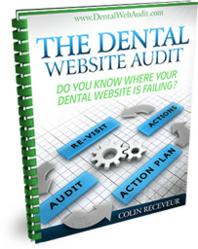 Dentists these days are looking for the best results possible for the least amount of money.
New Albany, IN (PRWEB) March 29, 2012
Dentists seeking to attract qualified patients in the niches that they have advanced clinical training are constantly striving to find the best advertising mediums to target the patients they want. SmartBox Web Marketing, the leader in dental websites, web marketing for dentists, automated prospect follow-up, and call tracking for dentists, announced today the release of their new special report The Dental Website Audit.
"We hear from dentists every day that paid thousands of dollars for their website and are getting zero phone calls," said Colin Receveur, founder & CEO of SmartBox Web Marketing. "My new free report will dispel all the myths and misconceptions about how to attract the patients you want, even in this new dental economy."
SmartBox Web Marketing has posted several dental marketing case studies of dentists in large, competitive markets who are finding and pre-qualifying new patients in their dental niche's via the internet and local online searches. These particular dentists have since enjoyed steady growth in their practices while doing away with all other forms of traditional advertising.
The Dental Website Audit includes a comprehensive 17 page checklist that dentists can use to audit their own dental website. "It's written in plain 'ol English so it can even be understood by the dentist who just wants to practice dentistry," Receveur said.
"Dentists these days are looking for the best results possible for the least amount of money. It's all about bang for the buck, and my new free report is their ticket to success," Receveur said.
The Dental Website Audit is available for immediate download from their website.
Colin Receveur is a nationally recognized speaker, author, and dental web marketing expert who has pioneered the way dentists market themselves online for the past decade.