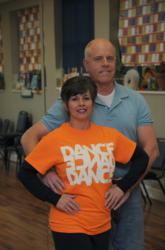 Pendleton, SC (PRWEB) March 25, 2013
To help raise necessary operating funds for the Anderson Free Clinic, Arthur Bruce, of Arthur Bruce Dental, will be competing in the 2013 "Dancing for our Heroes" fundraising event, presented by the Greater Anderson Rotary Club on April 19 at the Civic Center of Anderson.
Bruce is pleased to announce that Lisa Tavemier will be dancing with him. Tavemier is an accomplished dancer, having won many regional and national level competitions during her teenage years. She is a former Miss Anderson and runner up to Miss South Carolina. Bruce is also a former competitive ballroom dancer, participating in both regional and national competitions during his middle school through collegiate years.
As Bruce and Tavemier begin preparation for this competition, they do so in honor and memory of their former coach, Mr. Louis G. Sullivan, who provided ballroom instruction to many of the Anderson area's citizens of all ages. Mr. Sullivan was a wonderful Christian role model for them and would be thrilled that they will be using their training for such a worthy cause.
The event to be held in April is based on the television show, "Dancing with the Stars." All of the performances will be evaluated by a panel of judges. Contestants will also compete for the "People's Choice Award" by collecting "votes" in the form of donations to the charity they represent.
Every dollar raised by Arthur will go directly to Anderson Free Clinic. Bruce's efforts can be supported in a number of different ways. Donations can be made by sending a check payable to "Anderson Free Clinic" and writing on the memo: "Dr. Bruce - Dancing for our Heroes," Mail the check to PO Box 728, Anderson, SC. 29622. Donations can also be made online at http://www.andersonfreeclinic.org. Click on "Just Give" and complete the transaction by making sure to write "Dr. Bruce-Dancing for our Heroes." Attendees can also make a donation at the event.
Tickets for the event start at $40. Email barb(dot)baptista(at)anmedhealth(dot)org or call 706-525-9644 for more information or to make arrangements for payment of reserved tables. Tickets can also be purchased at People's Bank in Anderson.
Refreshments and dinner will be provided as well as a great floor show, live and silent auctions, and an opportunity for the audience to dance after the competition. Besides being a fun event, the profit of ticket sales, silent auction and sponsorship will be divided among eight local charities.
Bruce is a volunteer dentist at the Anderson Free Clinic. The Free Clinic fills a huge need in the community, providing free medical, dental and medication assistance to hundreds of people who have no financial means or insurance, including Medicare or Medicaid, as option to obtain health care elsewhere. The Anderson Free Clinic serves the poorest population of Anderson County.
<br>About the Company:<br>
A standard of excellence in personalized dental care enables Arthur L. Bruce, DMD & Associates to provide the quality dental services their patients deserve. They provide comprehensive treatment planning and use restorative and cosmetic dentistry to achieve optimal dental health. In their new dental facility located in Pendleton, S.C., they provide the latest in dental technology in comfortable surroundings from a caring staff. Should a dental emergency occur, Arthur L. Bruce, DMD & Associates will make every effort to see and care for patients as soon as possible.