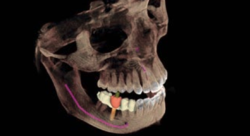 Dr. Boyd Patummus, DMD and Dr. Linda Ma, DMD believe that dental implants are a great way to improve your smile
Tempe, Arizona (PRWEB) March 15, 2013
Smile Innovations are pleased to offer the 3D Galileos Implant Software from Sirona at their family dental practice in Tempe. This new software is designed for all dental implant procedures and saves time and money. Dental Implants are small screws that replace the root of a tooth and restore the physical appearance and function of the tooth. Implants are integrated into the jaw and naturally bond with your mouth. 
Dr. Boyd Patummus, DMD and Dr. Linda Ma, DMD believe that dental implants are a great way to improve your smile and increase confidence. The Galileos Implant Software with 3D makes implantation easier and more efficient. Galileos Implant Software uses colored visualization of the nerve canal and shows depictions of the bones in all dimensions, allowing the implant to be ideally adapted to the patients anatomy. 
Smile Innovations has found that The Galileos Implant Software ensures safety and comfortability because of the high level of planning and visualization this software offers. Now, more implants can be placed because surgical implants are visible and less invasive making this procedure more accurate and successful than other dental implant options. The staff will work with each patient to find the right dental solution and best payment plan available. 
At Smile Innovations, Dr. Boyd Patummus, DMD and Dr. Linda Ma, DMD combine exceptional dental education, extensive clinical experience and long-standing personal dedication to improving their clients dental health. Smile Innovations is equipped with the latest in dental technology and strive to make every dental visit efficient and comfortable.
For More Information on dental implants and Smile Innovations visit, http://www.smileinnovation.com or call 480.820.7777.