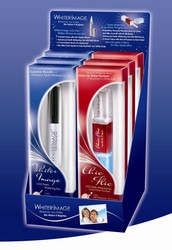 These professionals are tired of the same teeth whitening products available through distributors and other companies that are often bland in terms of eye-appeal and are challenging to administer
Atlanta, GA (Vocus) April 6, 2010
Whiter Image, a leader in the $14 billion teeth whitening industry, has recently taken its uniquely branded smile enhancement products to the Dental and Orthodontic markets with incredible response. While these professionals are seeking the best teeth whitening products for their patients, the typical solutions available are difficult to use, very expensive, and lack branding and packaging appeal to the consumer. Whiter Image has experienced tremendous success with its product line in the beauty industry to include premium spas, beauty salons, tanning salons, resorts and direct sales from its website which has started to resonate with the dental and orthodontic communities. Whiter Image has developed extremely unique and creatively presented retail products and chair-side teeth whitening solutions that fill the void for the traditional solutions available. "These professionals are tired of the same teeth whitening products available through distributors and other companies that are often bland in terms of eye-appeal and are challenging to administer" says Keith Rodbell, Founding Partner. "Our products deliver style, branding, and curb appeal at an affordable price unlike any in the market without compromising the professional teeth whitening results expected from these dental professionals". Whiter Image has positioned the products for direct retail to patients but also as great gifts for return visits, recalls, and promotional items to drive new patients in the door. The company also just produced a promotional DVD for the locations to loop in the lobby that showcases the benefits and features. View sample video here.
The company's primary product line consists of three teeth whitening products. The Whiter Image Premium Prefilled Tray Teeth Whitening Kit is one of the most revolutionary solutions to hit the market today. Each is tray is pre-loaded with a premium strength hydrogen peroxide formula that is vacuum sealed for freshness. There are no gingival dams are major preparation work required. The formula is strong enough to deliver outstanding results but is designed for optimal whitening without the sensitivity or pain associated with traditional teeth whitening solutions used by dentists. There is minimal labor which optimizes profitability and ease of use for the staff and patient. And the cost for each kit is very reasonable such that dentists can actually use the whitening solution as a marketing tool to draw in new patients that will generate a substantial return under long-term dental care.
The other two home teeth whitening products from Whiter Image include the Whiter Image TOGO Teeth Whitening Pen and the Chic Flic TOGO Teeth Whitening & Lip Gloss Plumper Pen. These products are beautifully packaged and include premium strength whitening gel that deliver beautiful smiles with on-the-go convenience. The Whiter Image pen contains 4.5 ml of whitening gel with a brush-on applicator in a sleek aluminum casing for use anywhere, anytime. The Chic Flic Pen is the first ever dual sided tooth whitener and lip gloss plumper in one for ultimate smile enhancement. It also features a beautiful red casing with white stones and built in mirrors and mini LED lights for use in the dark or on-the-run. The included Lip Plumper is a proprietary formula that includes a patented ingredient guaranteed to deliver short and long term full lips that also deeply moisturizes unlike most products on the market for smooth, round, age defying lips. Both the Whiter Image and Chic Flic pens can serve as a stand-alone whitening solution or as a maintenance after a professional teeth whitening treatment. Orthodontists have particularly connected with these products given that they must be more marketing oriented given the short span of patient care relative to general dentistry that delivers a lifetime of care. Orthodontists see the pens as a great gift to hygienists for referring patients and a great tool for patients to whiten teeth after braces or other oral devices. Testimonials from current Dental accounts validate the success of the program:
"We have had a great deal of interest in the Whiter Image TOGO Teeth Whitening Pens and have quickly sold through our initial order. We are using the product ourselves and are very happy with them. We will keep you posted as things continue to grow!" - Dr. C. Bavola, DDS, Warren, OH
"I use the pen myself and love it! I've seen such great results that I ordered the products to be sold at my dental practice. The high quality ingredients, beautiful packaging, and ease of application are huge selling points for us. I also lvoe that I can use it to instantly erase wine and coffee stains! I keep it in my purse and use it regularly throughout the day without messy strips." Dr. Jolanda W. DDS, Atlanta, GA
"I love the Whiter Image products! My patients love them and I used them as giveaways at the American Music Awards and Golden Globes, and they were incredibly popular. Whiter Image is a company I know we can trust" - Dr. Tracie Battle. DDS, Huntsville, AL
" As a dentist, I think both the Whiter Image pen products are excellent. The pens take so much less time than other soltuions, and they offer great results. There is no reason to stay at home and wait for 30 minutes to remove messy strips or trays. My patients rave about both the look and the results of both pens! I'm sold!" - Dr. Michael F. DDS, Wheat Ridge, CO
Whiter Image is excited to be connecting with the professional dental and orthodontic communities to deliver unique solutions that help drive business and deliver teeth whitening results for patients. And the company offers outstanding support to all professional carrying the products with Dedicated Account Managers. In this economy, the affordable price of the Whiter Image products to the professionals and to the patients is a key point of difference as well. "Vanity has continuity even in challenging times at the right price and the market has spoken that Whiter Image delivers the right value and price combination that resonates with consumers" says Brad Stevens, Founding Partner.
About Whiter Image
Whiter Image is a proven leader in the teeth whitening industry and primarily distributes whitening systems and retail products to premium accounts in the spa, salon, tanning, dental and beauty markets both domestic and internationally. Whiter Image is a founding member of the Council for Cosmetic Teeth Whitening and a co-author of industry best practices with a reputation for outstanding results, affordability, and unsurpassed customer support.
Media Contact:
Brad Stevens
Founding Partner
WHITERIMAGE
tf. 877.944.8330 ext. 3
###