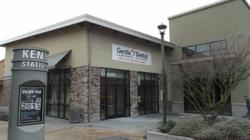 Kent, WA (PRWEB) March 14, 2013
Gentle Dental announces the grand opening of its new dental office today. The office is located in Kent, WA and is the 23rd Gentle Dental office in the state of Washington. Gentle Dental provides a wide range of dental specialties including orthodontics (braces), oral surgery, endodontics, periodontics, and all aspects of general dentistry to bring you one step closer to a healthier and more radiant smile. The new office, Gentle Dental Kent Station, is located in the Kent Station Shopping Center at 444 Ramsay Way Suite 109, Kent, WA 98032.
Gentle Dental Kent Station is a brand new office with state-of-art equipment and technology that will change the way you feel about a dental office. The office is completely digital and chartless, creating an efficient and more environmental friendly office. Each operatory is equipped with digital x-rays and 23 inch computer screens that can display your x-rays right in front of you.
Like every other Gentle Dental, Gentle Dental Kent Station accepts most insurance plans, and offers easy financing. To book your next dental appointment at this new office simply call 253-638-6046 or visit the office web page at: http://www.gentle1.com/kentstation/
Dr. Patsy Yip, D.M.D the general dentist for Gentle Dental Kent Station has a B.Sc. in Pharmaceutical Sciences from the University of British Columbia. Her Dental Degree is from the McGill University School of Dentistry in Montreal. Upon graduation, she completed a one-year residency at the University of Connecticut. To keep up with the latest dental technology, she's an active member of the American Dental Association and the Washington State Dental Association. She speaks Mandarin and Cantonese too!
About Gentle Dental
Gentle Dental is a brand of InterDent Inc., headquartered in Inglewood, California. For over 30 years, Gentle Dental has delivered high-quality care with a personal touch. With over 105 practices located across Arizona, California, Hawaii, Kansas, Nevada, Oklahoma, Oregon, and Washington, Gentle Dental offers comprehensive care in general, cosmetic, and specialty dentistry. Visit http://www.gentle1.com to learn more.
About InterDent, Inc.
InterDent, Inc. provides management services to over 125 affiliated dental offices employing more than 450 dentists in the following eight states: Arizona, California, Hawaii, Kansas, Nevada, Oklahoma, Oregon, and Washington. InterDent's branded divisions include Gentle Dental, Dedicated Dental, Capitol Dental, Affordable Dental, Smile Keepers, and Mountain View Dental. The network of practices delivers comprehensive dentistry to over one million patients annually.