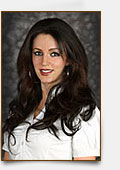 North Hollywood, CA (PRWEB) March 20, 2013
Dr. Ghasri, North Hollywood dentist, is now offering complimentary consultations for Lumineers. A bright, healthy smile can require more than a quick swipe of the toothbrush once or twice a day. Regular, preventative dental care can keep teeth strong and healthy while the right combination of cosmetic procedures can reveal a glowing, more aesthetically appealing smile.
Lumineers are a special type of dental veneers that require little or no preparation of the dental enamel. They are made of ultra-thin, ultra-strong Cerinate porcelain, which allows them to resist staining and damage better than natural teeth. They can be applied to the fronts of teeth in order to correct the appearance of stains, gaps, chips, cracks and other flaws. Unlike traditional porcelain veneers, which require the removal of dental enamel, Lumineers are considered reversible because the teeth are generally left unchanged. This complimentary consultation gives potential and current patients an opportunity to get to know North Hollywood Lumineers specialist, Dr. Poneh Ghasri, learn more about the procedure and determine if it might be right for them.
NoHo Dental Group also offers a full range of dental health care services. Statistics show that while more than half of American adults are experiencing some degree of gum disease ranging from gingivitis to periodontitis, only a minority are seeking the preventative dental care that can help them keep their smiles healthier. Orthodontics can play an important role in preventing dental health problems by making teeth easier to clean, reducing crowding and correcting bite abnormalities. Dr. Ghasri, North Hollywood Invisalign provider, offers Invisalign aligners that can straighten teeth more comfortably and discreetly than traditional metal braces can.
About Dr. Poneh Ghasri, Cosmetic Dentist North Hollywood
Dr. Ghasri, North Hollywood dentist, is a graduate of UCLA's School of Dentistry. She has focused her interests on cosmetic dentistry and has completed several advanced certification programs. Dr. Ghasri is known for her gentleness, professionalism and ability to create luminous, natural-looking smile makeovers. She works closely with her patients to help them achieve their dental health goals and a more beautiful, confident smile whether they need Zoom whitening or a full mouth reconstruction with dental implants.
Contact
NoHo Dental Group
Dr. Poneh Ghasri, DDS
11126 Chandler Blvd.
North Hollywood, CA 91601
Phone: (818) 824-8228
Website: http://www.nohodentalgroup.com