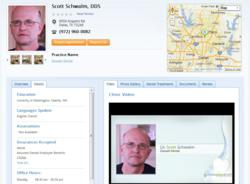 We are thrilled that Dossett Dental chose to use ChooseYourDentist.com to help patients find their Dallas dental practice
Dallas, Texas (PRWEB) March 31, 2013
ChooseYourDentist.com, the Dallas-based online portal that helps dentists and patients connect, is pleased to welcome Dallas, TX dentist, Dossett Dental, to its growing family of dental practices that use the site as an easy and effective way to provide prospective patients with information about their services. Instead of searching the web on their own, families that live in Dallas or are moving to the area can now visit ChooseYourDentist.com, enter a zip code of 75248, and be directed to a microsite that contains all the information they need to know about Dossett Dental.
Once at the Dossett Dental page on ChooseYourDentist.com, visitors can learn about the practice's specialties, insurances accepted, and read brief information about the treatments offered. Office hours are listed and a map is provided to help determine if the practice can conveniently meet their family's needs. They can view a short online video which features Dr. Scott Schwalm talking about Dossett Dental's many features and benefits. The site also includes the ability to set an appointment or request a telephone call with a simple click.
"We are thrilled that Dossett Dental chose to use ChooseYourDentist.com to help patients find their Dallas dental practice," said Feridoon Amini, the site's co-founder. "They are a great dental practice with a solid reputation in the Dallas area, but it can be difficult for these practices to get information directly to prospective patients. Dossett Dental can now concentrate solely on patient care while ChooseYourDentist.com does all the marketing for them."
Dossett Dental has provided exceptional dental care to patients in the Dallas/Fort Worth area for over 31 years. The practice prides itself on personalized dental care services which include everything from cosmetic dentistry to preventative care. "I've been with Dr. Dossett for over eight years," stated Dr. Schwalm. "During that time I have seen so many patients who appreciate our office's friendly, relaxed and inviting atmosphere. The problem has been letting more people know that we offer Dallas dentistry with a difference. I think ChooseYourDentist.com will be able to help us get the word out so more people come to us for dental care."
The Dallas dental office of Dossett Dental is located at 6959 Arapaho Road. The practice can also be reached at (972) 960-0082. ChooseYourDentist.com plans on adding an additional feature soon which will allow patients to view local dentists' special offers without having to save the direct mail postcards they receive. Further information on ChooseYourDentist.com may be found at http://www.ChooseYourDentist.com, by calling 1-888-I-CHOOSE, or by email at info(at)ChooseYourDentist(dot)com. You can also visit our blog for discussion on dental treatment options for families in Dallas Texas.