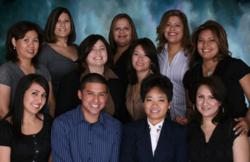 Business is just a part of the human relationship and it is that relationship she strives to master to make life more meaningful.- Dr. Emily Letran
Monrovia, CA (PRWEB) March 06, 2013
Dr. Emily Letran was recently featured on talk radio show, Money For Lunch. Money For Lunch is streaming internet radio catered to business minded people. Dr. Letran is a general dentist graduated from UCLA School of Dentistry and practices in Southern California. Dr. Letran is a contributing author of the book "Out Front, Business Building Strategies from Front Line Entrepreneurs," which features the country's foremost business experts and thought leaders revealing their top secret break-through action plans.
During her interview, Dr. Letran discussed her best seller book and shared how dentistry can actually change people's lives. The Money For Lunch radio host, Bert Martinez, asked Dr. Letran how is that dentistry can change lives. Dr. Letran states, "Dentistry has changed to treat the patient as a whole and not just a therapy." She goes on to state that just as people see their physician for annual physicals, one should see their dentist as well because dentists are an important part of the health team. Bert Martinez said, "The old saying of an ounce of prevention is worth one pound of cure, so really when you are visiting your doctor or dentist regularly, like every six months or so, you are really able to prevent major costs, as well as avoid painful dental work." Dr. Letran agreed saying that in her office nowadays it is not just the regular x-ray and cleaning she gives her patients but she also screens for oral cancer and updates the medical history to keep aware of any dental problems that may arise due to these medical changes.
Mr. Martinez then asked Dr. Letran about how other health problems can be detected in the mouth, such as gingivitis or gum disease and how people think it is normal for their gums to bleed after brushing. Dr. Letran stated, "Bleeding of the gums is not normal, that indicates inflammation, inflammation is never normal, for example if you touch your skin and your skin bleeds you obviously know that is not normal so the same for your gums, so we point out to the patient that it is a problem and how it can lead to other serious problems if left untreated." Dr. Letran shared how there have been studies linking gum disease to heart attacks because the bacteria that sits in the inflammation of the gums can show up in the plaque build-up in arteries. Mr. Martinez states this is a great example of how dentistry can help change lives with something as simple as a regular check-up.
Dr. Letran shares how dentists treat teeth, and teeth affect every smile, every bite, and every kiss. Dr. Letran realizes that a smile can identify someone in their day to day interactions with people. It can give someone the confidence they need for an important job interview or for a bride to feel extra beautiful on their wedding day. Dr. Letran shared a true story about one of her patients who lost her husband in a work accident and how the husband had saved money to get his wife a new smile. Dr. Letran and her team cried with this patient through every visit and were able to expedite her treatment to provide her with a new smile for the funeral. Dr. Letran says she reminds herself that business is just a part of the human relationship and it is that relationship she strives to master to make life more meaningful.
Dental Offices of Dr. Emily Letran
Dr. Emily Letran
Letran (at) EmilyLetranDDS (dot) com
626.305.5722
http://www.CosmeticDentistMonrovia.com
"Dr. Emily Letran is Proud to Support The HOME Foundation"
About The H.O.M.E. Foundation:
The Helping Others Means Everything, or The HOME Foundation, is a not-for-profit organization dedicated to helping our Family of Charities. Frankie Verdugo, President of The HOME Foundation, wants to help as many worthy charities as possible as they struggle during these tough economic times. Frankie Verdugo helps raise funds through luxury dream home raffles, home giveaways, prizes, and high profile celebrity events in Hollywood... "Our mission is to help charities reach their fundraising goals and to bring awareness to their praiseworthy causes."