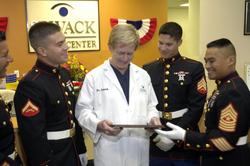 It is such an honor to be entrusted with a patient's vision
Denver, CO (PRWEB) February 17, 2009
Trusted LASIK Surgeons announced today that Doctor Lawrence Spivack has been listed in the Trusted LASIK Eye Surgeons Directory, an informational resource for consumers seeking vision correction surgery procedures like LASIK and a highly qualified refractive surgeon to perform their surgery. Dr. Spivack's practice, Spivack Vision Center, serves patients seeking vision correction through laser vision eye surgery procedures like LASIK in Denver, Centennial, Highlands Ranch, Littleton, Aurora, and Boulder. Spivack Vision provides complete eye care and treats patients with laser eye surgery, including LASIK and other refractive surgery procedures throughout Colorado.
The Trusted LASIK Surgeons directory lists only those LASIK eye surgeons who are among the best in the United States. To do so, Trusted LASIK Surgeons screens each surgeon based on experience, premier patient care, and professional credentials. In Trusted LASIK Surgeon's opinion, Dr. Spivack's professional achievements place him among the top LASIK eye surgery experts and refractive surgeons in the United States.
Dr. Lawrence Spivack has over 25 years of experience performing refractive eye surgery and was among the first surgeons to perform Radial Keratotomy procedures in the state of Colorado. (Radial Keratotomy or RK is the precursor to laser vision correction surgery procedures such as LASIK and PRK). He has over 13 years of experience in LASIK surgery and has performed over 40,000 laser vision correction procedures. Dr. Spivack was the first eye surgeon in Denver, CO to be certified by the Food and Drug Administration (FDA) to perform PRK and was the first eye surgeon to do LASIK eye surgery on an FDA-certified laser in Colorado. He was also the first eye doctor in Denver to be certified in Crystalens, a cataract replacement lens which corrects cataracts and gives patients a full range of vision by flexing like the eye's natural lens.
Doctor Spivack has published several articles for major peer-reviewed and non-peer reviewed professional publications in ophthalmology. He has given lectures in the field of refractive eye surgery at national, regional, and local eye meetings. Trusted by VISX, Inc. (VISX), a manufacturer of lasers, he has been designated a nationally certified trainer for instructing other laser eye surgeons in the use of VISX lasers for vision correction surgery. As his experience ably demonstrates, Dr. Spivack has the knowledge and skill patients can trust to provide them with the highest standards of eye care available when it comes to improving their vision.
Dr. Spivack treats patients with laser vision correction procedures including LASIK eye surgery, as well as refractive eye surgery procedures for patients with nearsightedness (myopia), farsightedness (hyperopia), astigmatism (blurred vision), and presbyopia. His practice, Spivack Vision, based in Denver, Colorado, provides premier patient care, including: (a) use of IntraLase system for "All-Laser" or "Bladeless" LASIK, (b) use of Wavefront Based ("Custom") LASIK and PRK, and (c) iLASIK procedure, which includes WaveScan Technology, IntraLase, and Visx Advanced CustomVue treatments. Dr. Spivack offers not just LASIK and PRK (laser eye surgery procedures), but other procedures like RLE/CLE (lens implants), phakic implants, limbal relaxing incisions, and cataract lens implants procedures to give patients a full range of options when it comes to selecting the right procedure.
Patients who have had significant problems with LASIK eye surgery or another vision correction procedures performed by another surgeon have come to Dr. Spivack to manage and treat their vision complications. Doctor Spivack is often chosen by other eye surgeons, optometrists, opticians, employees of companies that specialize in refractive eye surgery instrumentation or their family members to perform their LASIK eye surgery or other refractive eye surgery procedure.
A certified ophthalmologist by the American Board of Ophthalmology, this highly qualified eye surgeon is a member of the American Academy of Ophthalmology, the International Society of Refractive Surgery, and the American Society of Cataract and Refractive Surgery. Locally, Dr. Spivack is a member of the Denver Medical Society and the Colorado Society of Eye Physicians and Surgeons.
Lawrence Spivack, M.D. has been honored by both industry professionals and by the media. VISX awarded him the Star Award multiple times for laser vision correction surgery. KCNC in Denver honored him with the "Best LASIK Doctor" award. Dr. Spivack was voted by 5280 Magazine as "Best LASIK Doctor" four years in a row.
Dr. Spivack's dedication to improving vision for others who do not always have the means to afford exceptional eye care is nowhere more evident than the free LASIK eye surgery program for Iraq and Afghanistan veterans of the armed forces, generously sponsored by the doctors and staff at Spivack Vision Center. Dr. Spivack also co-founded the Denver Rescue Mission Eye Clinic, providing eye care for the homeless. In addition, he is a staff member for the Stout Street Medical Center for the Homeless and a Board Member of the Colorado Cancer League and the Tragedy Assisted Program for Survivors.
"Dr. Spivack is among the most experienced refractive surgeons in Colorado," noted James J. Salz, M.D., Chief Executive Officer of Trusted LASIK Surgeons. "He was one of the first to report a series of cases of 'diffuse lamellar keratitis' at a major eye meeting, before this unusual complication of LASIK eye surgery was completely understood. Dr Spivack was also an early advocate of using the IntraLase to create LASIK flaps. We are extremely pleased to have him become the first eye surgeon listed in the Trusted Lasik Surgeons Directory."
"It is such an honor to be entrusted with a patient's vision," said Lawrence Spivack, M.D., of Spivack Vision Center. "The joy they share when they can see is so overwhelming."
Visit Denver, CO, LASIK Eye Surgery Expert Lawrence Spivack profile page at Trusted LASIK Surgeons.
To learn more about Dr. Spivack's LASIK and refractive eye surgery practice, please visit the Spivack Vision Center website.
Click here to contact Dr. Spivack's refractive eye surgery practice at Spivack Vision Center, Denver, Colorado.
For more on why consumers should consider surgeons listed in the Trusted LASIK Surgeons directory for their vision correction needs, please visit: Why choose a Refractive Eye Surgeon from the Trusted LASIK Surgeon's Directory.
The screening process and standards used by Trusted LASIK Surgeons are located at How Are LASIK Eye Surgeons Qualified at Trusted LASIK Surgeons?
To find a highly accomplished LASIK and refractive specialist in your local area who has been qualified and listed in the Trusted LASIK Surgeons directory, please visit Trusted LASIK Surgeons Directory.
SOURCE: Trusted LASIK Surgeons
About Trusted LASIK Surgeons, Inc.
Trusted LASIK Surgeons, Inc. (Trusted LASIK Surgeons) is a premier LASIK, laser eye surgery, and refractive eye surgery directory service whose primary mission is to assist consumers in finding the best and most qualified LASIK and vision correction surgeons in their local area in the United States. To accomplish this, Trusted LASIK Surgeons uses a unique screening process where each prospective LASIK eye surgeon must meet the minimum required qualifications set by Trusted LASIK Surgeons. These qualifications for these doctors are based on experience (not just in LASIK but complete refractive care), research (including FDA approval studies for manufacturers and academic appointments at major universities), publications and lectures (to their peers, not to the public via infomercials) and patient care standards (treating other eye professionals and managing complications from patients first operated on by someone else). All refractive eye surgeons listed at Trusted LASIK Surgeons have qualified, been accepted, and have subscribed to our services. For more information on why we believe consumers interested in LASIK should consider an eye surgeon listed in the Trusted LASIK Surgeon's directory, please visit our website at http://www.TrustedLASIKSurgeons.com.
Trusted LASIK Surgeons, Inc.
(800) 483-8028
About Spivack Vision Center:
Because of our commitment to excellence in vision, patients from all across the country turn to Spivack Vision Center for superior eye care. Providing patients in Centennial and Denver as well as throughout Colorado with state-of-the-art laser vision treatments, refractive surgeon Dr. Lawrence Spivack is board certified and has extensive experience and training. Together with Dr. Terrence Spencer and our team of eye surgery specialists, Dr. Spivack has helped countless people achieve and enjoy better vision. Our Denver Tech Center, located in Centennial, Colorado, has earned the reputation for being one of the leading eye care centers in the country for laser vision correction. Since 1980, the experienced refractive surgeons at our practice have helped more than 40,000 patients see their world more clearly. Spivack Vision Center believes in supporting the community. Dr. Lawrence Spivack received a community service award from the Denver Rescue Mission for his efforts in establishing an eye clinic for homeless people. Dr. Terrence Spencer has also helped those in need by performing complimentary laser vision correction procedures to some patients at Craig Hospital. Spivack Vision Center has also donated the proceeds from surgical procedures to help various charities in the Denver metro area. The surgeons at Spivack Vision Center are among the most experienced in the refractive surgery field. These refractive specialists are dedicated to continuing their education to provide the ultimate in vision care for our patients. Spivack Vision Center also invests in the very latest vision technologies and surgical equipment on the market, including the IntraLase® and VISX Star S4™ excimer lasers. Contact our practice for more information about how LASIK or another vision correction surgery procedure can help you to see clearly. For more information about Dr. Lawrence Spivack and his practice, please visit http://www.Spivack.com.
Spivack Vision Center
6881 South Yosemite Street
Centennial, Colorado 80112
Press Contact: Amy Johnson
Phone: (303) 740-5485
For Appointments: (303) 733-2020 or (303) SEE-2020
###