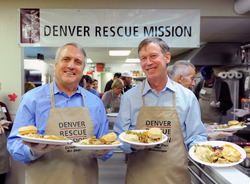 Watching individuals, families and corporations encourage and challenge each other to give this year was incredibly uplifting
Denver (Vocus) November 30, 2010
The Denver Rescue Mission (DRM) kicked off the 2010 Annual Turkey Drive campaign on November 1, 2010 with a goal of collecting at least 6,000 frozen turkeys. On average, DRM collects 10,000 turkeys in the month of November. By Wednesday, November 10th, DRM had zero turkeys donated towards the drive and put out an urgent call to the community. They answered in a big way! By Thanksgiving Day, November 25th, DRM had collected 18,175 frozen turkeys from individuals, corporations, families, and organizations - breaking all previous collection records.
Organizations such as the Colorado Rockies Baseball Club, XEROX, Delta Sigma LLC, Tree Land, Toyota Motor Sales, Mark Schlereth's Stinkin Good Green Chile, The Denver Foundation, Pinnacol Assurance, Presidential World Wide Transportation, St. Anthony's Central Hospital, and The Colorado Hotel and Lodging Association raised money or held turkey drives at their places of business. "Watching individuals, families and corporations encourage and challenge each other to give this year was incredibly uplifting," says Brad Meuli, President and CEO of the Denver Rescue Mission. "By answering our urgent call to donate, people were able to share their Thanksgiving meal with nearly 150,000 hungry folks in Colorado. Every donation made a difference!"
Nearly 17,000 turkeys have been distributed for Thanksgiving and Christmas holiday food box programs. The turkeys were given to clients and program participants through DRM community outreach events including the Thanksgiving Banquet-in-a-Box food box distribution and The Great Thanksgiving Banquet. Every year, DRM also acts as a "turkey collector and warehouse," distributing thousands of birds to local organizations who are also providing holiday food boxes to homeless and low-income men, women and families.
Because of the great response from thousands of people in the community, DRM was able to increase the number of turkeys distributed from 5,000 to 17,000 to approximately 80 agencies, churches and non-profits in Colorado. Increases in turkeys were given to organizations such as Project Hope, Wishing Well Enterprises, Metro Denver Partners, Straight Ahead Colorado, Food Works (COMPA), Arvada Food Bank, Thorncreek Community Church, Frierson International and Harvey Park Baptist Church. New agencies were quickly approved and given their donation such as the Weld County Food Bank who received 500 turkeys the week of Thanksgiving.
DRM is still in need of help for the holiday season and is asking the community to lend a hand. With thousands still to serve, monetary and canned good donations have been low. The DRM Ministry Outreach Center warehouse, where food is collected and sorted, has approximately 1/3 of the food compared to previous years' donations. DRM is in need of canned goods and non-perishable food items such as vegetables, fruit, peanut butter, pasta, tuna, and rice. Please drop donations at the DRM's Lawrence Street Shelter, 1130 Park Avenue West, Denver, CO 80205.
Monetary donations are needed to serve approximately 660,000 meals, provide 171,00 nights of shelter, help nearly 300 families into permanent housing, and provide other basic necessities and long-term solutions to pave the way for lasting change for poverty stricken men, women and families. Donate online today at http://www.DenverRescueMission.org.
About the Denver Rescue Mission
Since 1892, the Denver Rescue Mission has been serving the needs of homeless and low-income men, women and children through emergency services, rehabilitation, transitional and permanent housing, and community outreach. For information, please visit http://www.DenverRescueMission.org or call 303-297-1815
Contact:
Greta Walker
303.618.4004
Alexxa Tavlarides
720.201.2776
###