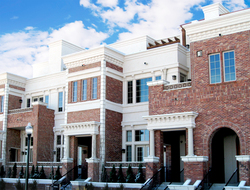 The homes offered by this builder are diverse, yet they are all impeccably designed and very upscale
Newport Beach, Calif (PRWEB) January 6, 2009
Leading online real estate auction marketing firm, LFC Group of Companies, launched a new auction campaign of brand new homes in Denver, Colorado, on its residential real estate website, Freedom Realty Exchange (FRE.com/284R3). The auction, a builder closeout of high-end properties in the master-planned community of Stapleton and the charming town of Golden, began December 19, 2008 and continues with a bid deadline of March 5, 2009.
The properties, four boutique townhomes and four large estate homes, are the last remaining inventory of a well-respected local developer, and evidence that online auctions are quickly becoming a popular sales alternative for healthy builders and developers eager to accelerate sales through a marketing program that allows buyers to set the true market value of the homes.
The three communities are located within 25 minutes of Denver's city center, close enough for residents to enjoy both the excitement of the city and the relaxation of suburban living. With minimum bids nearly 50% lower than previously listed prices, buyers have an opportunity to walk away with a piece of Denver real estate at a steal.
The properties in Stapleton to be auctioned include four multilevel homes in the Denver Brownstones, situated in the community of Westerly Creek. Distinctive architectural features and brick exteriors bring to mind downtown living, but without the hustle and bustle of a city center. Instead of facing a crowded street, the multilevel row homes look out over Stapleton's 80-acre Central Park, providing residents with stunning views from their rooftop terrace, deck off of the kitchen, or front porch. The Brownstones enjoy over 3,300 square feet of living space, and feature luxurious amenities such as a penthouse, private elevator, and gourmet kitchen.
Also included in the campaign are three Urban Estates homes, located in the Eastbridge neighborhood of Stapleton. The grand homes, all over 4,000 square feet, feature 4-5 bedrooms, large living spaces, and spectacular views of the surrounding mountains. Impressive amenities in the homes include a Jacuzzi tub, gourmet kitchen, and guest casita. Exterior designs ranging from Mediterranean to Victorian reflect the innovative, one-of-a-kind look and feel of the Eastbridge neighborhood and the whole of Stapleton.
The final property, a ranch style custom home in Golden, features a sprawling floor plan and impressive exterior stone and wood detailing, situated on a lush piece of Colorado landscape. With 4,147 square feet of living space, this home includes four bedrooms, an exercise room, and a study, as well as a porch and recreation area. Views of the surrounding mountains from all sides make this home the perfect piece of real estate for enjoying the Colorado outdoors.
"The homes offered by this builder are diverse, yet they are all impeccably designed and very upscale," describes Kelly Lovegrove, Director of Operations for LFC Group of Companies. "We are seeing more and more developers like this who see auctions as a smart way of doing business. Rather than lowering prices until buyers bite, sellers are letting the buyers decide what they want to pay--a powerful tool in times like these."
Stapleton is conveniently located 15 minutes from downtown Denver and the Denver International Airport, with effortless access to the mountains via the I-70. The master planned community is innovative and diverse, encouraging business growth, environmentalism, and strong neighborhood ties. Designed for maximum mobility, businesses and entertainment are only a short walk or bike ride away. Several parks and nature spots, as well as numerous public art formations designed by well-known artists, all enhance the daily experience, health, and overall enjoyment of locals. A sustainable, environmentally friendly lifestyle is encouraged by Stapleton, which is the largest community in Colorado and one of the largest in the United States to have 100% builder participation in the Energy Star® program.
Golden, only 25 minutes from the city, is a budding town boasting both thriving development and close-knit, small town community ties, rooted in a strong sense of pride in its unique history. Featuring local entertainment, an annual fine arts festival, and a weekly farmer's market, Golden encourages residents to participate in local events and support local businesses. Historic Downtown Golden offers an array of shopping and dining options, while the surrounding natural environment is filled with trails and camping spots for the more adventurous.
For more information on this auction, including detailed property descriptions, documents, and bidding information, visit http://www.FRE.com/284R3.
Freedom Realty Exchange® - a member of the LFC Group of Companies
For more than 30 years, the LFC Group of Companies has served numerous Fortune 500 companies, real estate developers, investors, financial institutions and government agencies by auction-marketing thousands of commercial, industrial, land and residential properties with an aggregate value well in excess of $5 billion. http://www.FRE.com
###