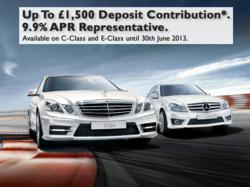 Mercedes-Benz Deposit Contribution
Stevenage, UK (PRWEB UK) 6 March 2013
Whether a person wants to get behind the wheel of a used Mercedes C-Class or a used Mercedes E-Class, the offer stands. A deposit contribution will be made on behalf of the consumer by the dealership and a competitive 9.9 percent APR will also be provided. This will make it easier for people to become owners of a luxury Mercedes-Benz with a powerful petrol or diesel engine under the hood as well as the state of the art dashboard tools that people have grown to expect from the luxury car manufacturer.
The dealership is continuing to feature the C-Class offer as well as the E-Class offer through until the 30th of June. All of the used Mercedes-Benz vehicles available for the offer are available for viewing on the website. This allows consumers to find the car they want prior to going to the dealership. Information that can be viewed in advance includes the car model, trim level, price, and list of features – along with a photo of the car.
The sales team at L&L can be contacted in order to provide additional details on the offer and to schedule a test drive for consumers who are interested. The credit approval must be completed by the 30th of June and there is a minimum balance that must be financed in order to take advantage of the deal being offered.
Dealerships do not commonly offer such a significant financial support, however the dealership is trying to move some of their older models in order to make room for some of the new 2013 models as well as the 2014 models that will be arriving in Hertfordshire within the next several months.
Consumers will be able to experience firsthand what the hype is about when it comes to owning a Mercedes-Benz. The many trim levels provided within the E and C Classes provide a number of options including interior design as well as performance levels. Both petrol and diesel engines are available and many contain premium engines capable of 200 horsepower and higher.
Many features are included in the models as well. This can include a Nappa leather steering wheel, sophisticated computer system with trip information, sporty bucket seats, Bluetooth, steering wheel controls for audio and cruise control and much more.
A consumer can choose to go into any of the three L&L dealerships in order to take advantage of the deposit contribution on the E & C class models. They can also choose to go online, view the available models and find which of the dealerships has the car they are interested in.
Owning a used Mercedes-Benz just got to be more affordable due to L&L offering a £1500 deposit contribution for purchases of older models.

Author: David Newman from Mercedes-Benz Hertfordshire
About Mercedes-Benz Hertfordshire - L & L Automotive
L&L Automotive is the driving force behind a dynamic retail network aimed at enhancing sales and after sales services for the region's existing and prospective Mercedes-Benz, AMG and smart customers.
Encompassing retail outlets in Bishop's Stortford, Hertford and Stevenage, the group is operated by L&L Automotive – a company boasting a lengthy and successful history.
L&L's Mercedes-Benz businesses moved into Hertfordshire in July 2002, when it was selected as one of Daimler UK's key business partners in establishing a revitalised national retail structure.
L&L Automotive. is a company registered in England and Wales with company number 4415393
VAT No. 794 6047 92
Mercedes-Benz of Stevenage : +44(0)1438 737800
Mercedes-Benz of Bishops Stortford : +44(0)1279 719333
Mercedes-Benz of Hertford : +44(0)1992 514444